Guy Maddin's meta-documentary My Winnipeg won the inaugural C$10,000 Rogers Best Canadian FilmAward as the Toronto Film Critics Association held its first awards gala in Toronto Tuesday night.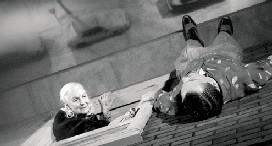 The evening, emceed by Toronto International Film Festival co-director Cameron Bailey, also formalized the awards announced last month. Kelly Reichardt's Wendy And Lucy was named Best Picture and its star, Michelle Williams, was named Best Actress while Jonathen Demme's Rachel Getting Married carried four prizes including Best Director.

Filmmaker and actor Sarah Polley, the recipient of the Best Canadian Film award in 2007, was on-hand to present the prize to Maddin and producer Jody Shapiro.

Accepting the prize, the Winnipeg-born filmmaker was his usual laconic self. He paid tribute to the film's lead actress, Anne Savage, the 1940s-era B-movie star who, as Maddin put it, 'bought the farm on Christmas Day.' Responding to the bemused response from the assembled, Maddin added, 'That's how she would have put it.'

Accepting the Best Film prize on behalf of Kelly Reichardt, Hussain Amarshi, president of distributor Mongrel Media, said of his decision to acquire the Canadian rights to Wendy And Lucy, 'I thought it 'It will make $2'. But I did something distributors try not to do too often. You buy the film because you love it.' Certainly, Amarshi's critical acumen cannot be faulted; Mongrel is distributing seven of the 12 films honoured by the TFCA.

Other Canadian film luminaries present included filmmakers Atom Egoyan, Don McKellar, Ron Mann, Sturla Gunnarsson, Jennifer Baichwal and Bruce McDonald, and producers Robert Lantos, Daniel Iron and Simone Urdl.