You may know the name Nate Parker from his roles in The Great Debaters, Non-Stop and Arbitrage. Then Monday afternoon happened at the Eccles in Sundance.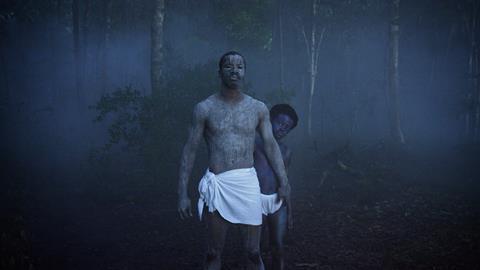 The world premiere of the film about Nat Turner, the slave and preacher who led the bloody 1831 slave revolt in Virginia, triggered three standing ovations and a bidding frenzy that saw Fox Searchlight pay $17.5m for worldwide rights in the biggest on-site Sundance deal in history.
Parker talks to Jeremy Kay about diversity, his breakout directorial debut (which he made for around $10m after putting his acting career on the backburner), appropriating a notorious film title and receiving advice from Mel Gibson. Bron Studios, Mandalay Pictures, Phantom Four and Tiny Giant Productions produced.
You are the man of the hour. How are you feeling?
It's been a very thoughtful time. I've been trying to deal with the impact of that's happening. It's really inspiring. I'm feeling really good about my art right now.
How did this come about?
It's been such a journey. Nat Turner has been a hero of mine for a long time. I grew up in Virginia, 42 miles east of Nat Turner and here I was [at college] learning about this man who did these heroic things. I did a lot of research on him and he's someone I looked to for inspiration. I wrote a screenplay and it wasn't until I met Michelle Satter at the Sundance Institute that I got my first break. They gave me a grant and I become a Sundance fellow.
So what happened after the Sundance Institute helped you develop the screenplay?
I had to raise the money and had to produce on my own initially. I had to push the boulder up the hill until I had more producers, specifically Kevin Turen from Arbitrage [Parker acted in that film]. We brought on a couple more producers and shot 27 days in Savannah [in the State of Georgia] – that's about 20 days less than we wished we had. It forced me to be efficient and to learn quickly.
Who were some of the mentors who help you along the way?
I had the benefit of working with some of the best [filmmakers] such as Ed Zwick, who walked me through the battle sequences. I shared an agent – the late Ed Limato – with Mel Gibson and Mel talked me through directing myself as he had done on Braveheart. He told me my health was my biggest asset. Sundance then offered different filmmakers to watch me and give me notes.
What do you hope to achieve with this film?
My expectations for this film… I tried to keep them in check. I hope it has a social impact. I want it to affect people and make them examine their environments and see if they can make changes in social injustice.
A century after DW Griffith's notorious film, you have appropriated its title. Tell us about that and your thoughts on the issue of diversity that is burning through Hollywood
DW Griffith came out with The Birth Of A Nation in 1915. America and Hollywood bought into it. If that's our foundation for Hollywood it's no wonder the fruits we bear are tainted. I don't want to deal with the symptoms; I want to deal with the sickness. Racism still exists not only in America but in Hollywood and we have to eke out every artery and do everything we can to decimate it. Independent film lets us tell stories that make us feel uncomfortable – that's how we move forward.
Our foundation in Hollywood was built on sand in a sense. DW Griffith's film set us on the wrong course so as an artist and a black man I wanted to reclaim that title so when you hear it you don't just think of the propaganda; you associate it with resilience, self-determination and the birth of a new nation, a nation that's willing to deal with its injuries, to heal and to move on.
As an artist and a black person in the industry, whether you're a producer or agent or any element, we have to be intentional about dealing with injustice and lack of diversity.
Loads of studios bid on your film. It is said Netflix offered $20m but in the end you went with the experience of Fox Searchlight. What was behind the decision?
We examined every company. We had multiple companies we met with that all had excellent ideas. You have to serve the film and that's the job of the filmmakers and producers and when it came down to it there was deliberation. I baulk at the idea that we looked at Ted's [Sarandos, of Netflix] company as something to which we'd attach negative connotations. He's an innovator. Every system can be improved upon and I'm happy he's having the success he is.

But [the film] can only have one home so at some point you have to make a decision and we came away with a connection [to Fox Searchlight]. We want people to have the same experience the audience had at the world premiere at the Eccles.
Will international audiences respond to your film?
This is a global story. The fight against injustice is a global fight. While the story is dealing with race relations in America, the core of it is injustice.