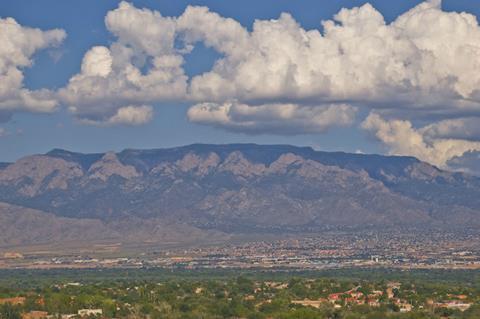 NBCUniversal has announced plans to build a television and film studio in Albuquerque, the largest city in the western state of New Mexico, as the fallout from controversial abortion bills in Georgia, Louisiana and others boosts the appeal of alternative locations.
Over the next ten years, NBCU plans to produce projects at the facility that will result in $500m in direct production spending. Basic cable series Briarpatch, from Universal Content Production, has already committed to film in Albuquerque.
The facility, a warehouse conversion being developed at a cost of $4m by the studio with Garcia Realty and Development, will house two sound stages, offices, and a mill.
The New Mexico Economic Development Department is providing $7.7m and the city of Albuquerque is pledging another $3m to the redevelopment and production commitment.
New Mexico is one of the US states that could benefit if film and TV production work leaves states such as Georgia and Louisiana because of new proposed abortion laws. Actress and activist Alyssa Milano recently published a guide for production companies listing Georgia, Louisiana and 15 other states where abortion rights are "most threatened", and a dozen states, including New Mexico, where they are "least threatened."
As one of the first US states to offer production incentives, New Mexico's 25% refundable tax credit is now one of the most reliable in the region. Legislation passed in March this year increased the incentive programme's annual cap from $50m to $110m and offers a partnership arrangement for studios and producers such as NBCU that commit to do business in the state for a decade or more.
Last October Netflix announced it was establishing a new US production hub in Albuquerque and would be buying the city's ABQ Studios.
Announcing the studio deal with NBCU, New Mexico governor Michelle Lujan Grisham said: "We are growing New Mexico's film industry, diversifying our economy and creating exciting jobs – this is a home run deal. I'm incredibly thrilled to welcome our state's new partner, NBCUniversal. The media industry is increasingly vital to our state's workforce, providing stable long-term employment for talented individuals of every age, from all parts of the state. I'm thrilled to be part of expanding that industry – and we will continue to do so."
Dawn Olmstead, president of Universal Content Productions and Wilshire Studios, and Pearlena Igbokwe, president of Universal Television, added: "NBCUniversal has enjoyed a longstanding and productive relationship with New Mexico and Albuquerque and we are grateful for the opportunity to expand our presence in this community through our venture with the Garcia family. We are thankful for the support of Governor Lujan Grisham, [Albuquerque major Tim Keller] and their economic development teams that have helped make our long-term investment in Albuquerque a reality."