In an unprecedented move the companies have secured simultaneous exclusive windows for the late summer 2015 release of The Weinstein Company's Crouching Tiger, Hidden Dragon: The Green Legend.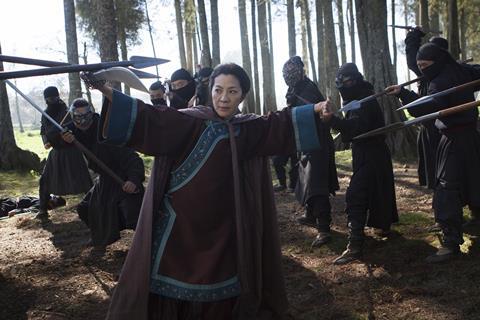 The film will open on Netflix and in select global Imax venues on August 28, 2015, and marks the first of what the companies said would be more collaborations on "major films" backed by Netflix
Yuen Wo-Ping directs Michelle Yeoh (pictured in Crouching Tiger, Hidden Dragon) and Donnie Yen in the sequel to Ang Lee's 2000 Oscar winner.
This time the tale of love and redemption story centres on a legendary sword set against the backdrop of a martial arts war between good and evil.
Principal photography is underway in New Zealand. The film is based on John Fusco's adaptation of Wang Dulu's novel Iron Knight, Silver Vase.
Yeoh reprises her role as Yu Shu-Lien while Yen will play Silent Wolf. Harry Shum Jr, Jason Scott Lee, Roger Yuan, Eugenia Yuan and newcomer Natasha Liu Bordizzo round out the key cast.
Netflix chief content officer Ted Sarandos said the deal offered audiences "unprecedented choice in how they enjoy an amazing and memorable film that combines intense action and incredible beauty."
Imax Corp senior evp and Imax Entertainment CEO Greg Foster added, "We are particularly hopeful it will play in our highly successful China market. In territories where we simultaneously release with Netflix, we are excited to offer consumers the option of deciding how, when and where they want to view the film, and exhibitors the opportunity to participate in this alternative form of content in a new and innovative way."
TWC co-chairman Harvey Weinstein, who produces alongside Peter Berg and Sarah Aubrey, said Netflix was "unquestionably" at the vanguard of the evolving film-going experience.
Morten Tyldum Ralph Winter, Anthony Wong and Bey Logan serve as executive producers.