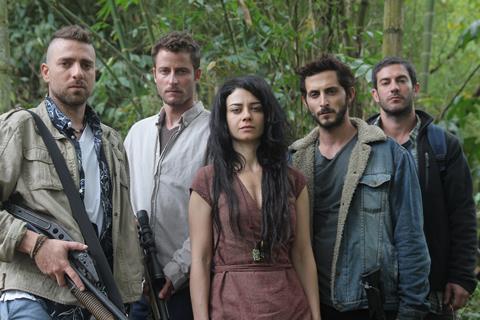 Keshet International has sold all global rights excluding the first window in Israel on Hebrew-language thriller series When Heroes Fly to Netflix.
The deal marks Keshet's first sale of a Hebrew-language series to the global streamer. All 10 episodes of the drama will made available with subtitles to Netflix subscribers around the world in early 2019.
Produced by Spiro Films for Keshet Broadcasting, When Heroes Fly is written and created by Omri Givon, co-creator of Israeli series Hostages. Tomer Kappon and singer-songwriter Ninette Tayeb star in the story of four war veteran friends who reunite for a rescue mission in the Columbian jungle.
The show won the best series award at April's Canneseries festival and made its debut in Israel in May on Keshet 12, quickly earning a renewal for a second season.
Keshet Studios, the Los Angeles-based subsidiary of Keshet International, is reportedly developing an American version of the series.
Keshet International COO and president Keren Shahar commented: "We are thrilled to be announcing this global deal with Netflix. When Heroes Fly is one of those series that instantly grabs you and keeps you hooked until the very end. Featuring breathtaking cinematography and a stellar cast, this series feels completely international and totally at home on a global platform like Netflix."