EXCLUSIVE: Companies from Panama, US, Middle East to debut at Berlin's EFM; Matthijs Wouter Knol discusses his first six months as market director.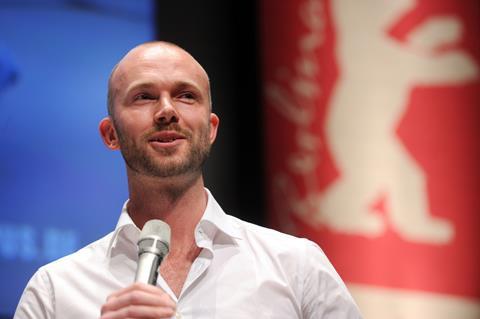 Companies from the US, Canada, the Middle East, Turkey and Spain are among first-time exhibitors at this year's European Film Market (EFM, Feb 5-13), which will be the first under new director Matthijs Wouter Knol.
The Panama Film Commission's Stephan Proano and international project manager Gabriel Padilla will attend Berlin to man their stand in the Marriott Hotel.
The Arab Cinema Center umbrella at the same venue will host participants including the first pan-Arab independent studio and consultancy MAD Solutions; Egyptian production company Film Clinic; production outfit The Producers, founded by director Hadi El Bagoury and executive producer Hani Osama; Screen Institute Beirut; the Malmö Arab Film Festival; and Cairo-based production and post-production house X Rated Studio.
Other market debutants with their own stands/offices will include US firms Applied Art Productions, Oration Films/Devilworks, Blue Box International, Pathfinder Films/XVIII Productions and BoulderLight Pictures.
From other parts of the world, there will be EFM debuts from Canada's Séville International and Mongrel International; Turkey's Horizon Film; and South Korea's Contents Panda, More In Group and Studio Gale.
Furthermore, a delegation of film-makers from South Africa will have a presence at the EFM for the second year running with the organisation of the ¨South Africa Indies¨ umbrella stand at the Marriott Hotel. Companies represented will include Azania Rising, Inside Job Media, Tshedza Media, Gambit Productions, Disadvantaaged Backgrounds, and NB Media and Productions,
Steep curves
In an exclusive interview with ScreenDaily, Knol, who took up his new post on June 1 last year, admitted that "the learning curve has been steep, but I like steep curves".
He explained that, during his previous six years as programme manager for the Berlinale Talents/Berlinale Talent Campus, ¨we were trying to give emerging talent access to the festival and the industry, so this was good preparation for my switch to the European Film Market.¨
In addition, he had experience of seeing the EFM from the other side as a professional when he had worked out of Amsterdam as a documentary producer in the Netherlands and with partners elsewhere in Europe.
The transition from one area of the Berlinale to another has been made all the smoother thanks to the fact that Knol can rely on EFM's well-oiled apparatus, which predecessor Beki Probst built up over more than 25 years.
"It was really a case of stepping onto a train that is already travelling well and just deciding which stations to stop at in the future,¨ said Dutch-born Knol.
Fun with Beki
¨She's an extremely fun person to work with¨ is how he described his collaboration with Probst, who was elevated to the position of EFM president and consulting advisor after his appointment last summer.
¨Unlike her, I have not been running a market for the last 25 years, so that means that my network in the industry is different, although it has now been expanding all the time,¨ Knol explained.
¨We have been travelling to markets together: she has introduced me to people and I have also had a chance to introduce her to some people she didn't know. There are huge differences between us, but that's what makes it interesting to work together."
When asked how the EFM differs from other film markets around the globe, he said: "The EFM is not just a market for its own sake, but is closely connected with the festival. The strength of the market not only comes from the input of the films from the Berlinale, but also from the various industry events.
"Taking place in a city like Berlin, where there is a lot of creative potential, also makes a difference to both the EFM and the festival - and that's something we want to open up to more through the initiative with the startups [organised with Medienboard Berlin-Brandenburg and Startup Germany for the first time this year].
"It fits very well with what the Berlinale has been doing for more than a decade - that we should open up to new fields of business and look for new groups of people and ways of business we can bring into the market."
Industry barometer, new initiatives
He added that, since it is held at the beginning of the year, the EFM ¨likes to call itself the 'barometer' of what is going to happen in the rest of the year¨ and indicateed that he would like ¨to position the market in the coming years as a place where people can expect and demand this.¨
Turning to the newly created Producers Hub initiative, Knol explained that the idea is to cater especially for those producers who are not at the Co-Production Market or at the MEDIA stand so that they can find what they are looking for at the EFM such as financing or co-producers.
He had already spoken with the pan-European body ACE and the German Producers Alliance about this venture and has now been approached by other producers associations keen to discuss how the EFM can adapt and better cater to the wishes and changing needs of the international production community.
¨We wanted to give a signal and say that the EFM is not just for distributors and sales agents, but the producers are just as important for us,¨ he said.
In response to feedback from buyers attending the EFM, the 2015 edition will be launching a dedicated Buyers Lounge located on the south side of the Martin Gropius Bau in rooms previously occupied by the EFM administration. This working space will only be open to those with a Buyers Badge, although they will be able to invite sales agents to join them there for meetings.
According to the latest figures provided exclusively to ScreenDaily, 7,458 professionals from 95 countries - including 1,220 buyers from 63 countries - have received accreditation so far for this year's EFM (2014 total: 8,396 participants, including 1,499 buyers)..
As of January 16, 728 films had already been submitted for market screenings on the EFM's 39 screens (the final total last year was 784 films shown in 1,109 screenings).
Berlinale Briefs
All change for Probst
Handing over the reins of the EFM to successor Matthijs Wouter Knol last June represented the end of an era for Beki Probst, but this hasn't been the only change for the Swiss-based grande dame of international cinema.
Shortly before the end of 2014, the news broke that Probst has sold her Quinnie chain of arthouse cinemas in the Swiss capital of Berne to the Biel-based Apollo AG.
As of January 1, Apollo assumed the running of the Bubenberg, Camera, Club and Movie cinemas under the Quinnie moniker, and the Berner Zeitung reported that Probst will to continue to have responsibility for programming the cinemas and serve as an advisor for the new owners..
Apollo operates 18 screens in Biel, Neuchatel and La Chaux-de-Fonds with a mix of mainstream and arthouse, but the chain's director Edna Epelbaum promised that the Quinnie cinemas' specific profile with arthouse titles in subtitled original versions would be preserved. ¨People will look in vain for films like Transformers, Battleship or Horrible Bosses in the Quinnie cinemas,¨ she declared.
German series go international
With the Berlinale casting a spotlight on quality TV fare, Bavaria Film has joined forces this year with TOP: Talente to hold a panel discussion during the festival on February 9.
Producers Rola Bauer (Tandem) and Ronald Mühlfellner (Bavaria Fernsehproduktion), public broadcaster Alexander Coridaß (ZDF), director Christoph Schrewe (Borgia), Anke Greifeneder (senior executive producer, Turner Broadcasting System), and Philipp Steffens (head of fiction, RTL) will give their views about what is needed for German series to have success internationally.
Life after cinema for children's films
The business models developed by Austria's VoD platform Flimmit and the EuroVoD network will be the subject of this year's KIDS Regio Berlinale Meeting Point on February 7.
Karin Haager & Uli Müller-Uri, Flimmit's CEO, will explain the role children's film plays for their platform, while Dragoslav Zachariev, International Relations Manager of France's UniverCiné and General Secretary of EuroVod, France, is expected to provide insights into the work of a digital aggregator.
In addition, Juliette Jansen, project manager for a new European children's film catalogue for educational screenings curated by Cinekid, will give an update on how the films were chosen and speak about the challenges regarding rights issues for several European territories and languages.