Dir: R. Alverson. US. 2011. 92mins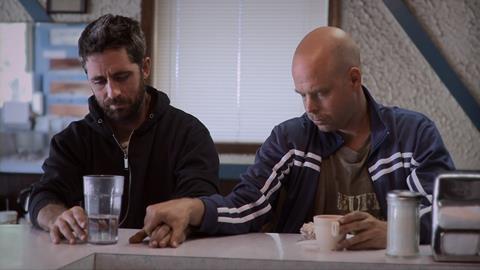 A delicately observed film about relationships and vulnerability between two very different men, New Jerusalem has the right kind of quirky and thoughtful qualities that could well appeal to ambitious indie distributors. The film had its world premiere at the Rotterdam Film Festival.
New Jerusalem is a sparse and nicely observed film.
The film also has the right indie music credentials – it is directed by musician R. Alverson from band Spokane, and stars singer Will Oldham (aka Bonnie 'Prince' Billy, singer with the Palace Brothers and who featured in Kelly Reichardt's 2006 film Old Joy) – to appeal to marketeers savvy to its cross-over potential and likely indie media interest.
It is a meditative movie, based on observation and gently constructed dialogue, as the two men, both of whom work in a tyre centre mull over their lives.
Irish immigrant Sean (Colm O'Leary, who also co-scripted) is new in the small town, having served as a mechanic with the military in Afghanistan. He builds up an unlikely friendship with local boy Ike (Oldham, sporting a bald head and small fair moustache) who struggles to understand Sean's worldview, but is generous in his interest in helping him fit into the local community.
Ike, an evangelical Christian who always wears the same bible studies baseball cap, takes Sean to his church and encourages him to embrace his more clear-cit religious sense of the world. The film largely involves their conversations – and silent pauses – at their work and at a local diner.
Sean is grudgingly won over by Ike's good nature and the friendly spirit of the people he meets, but he remains a solitary figure (there are plenty of shots of him jogging alone along the street) whose only real companion is an increasingly ill cat.
New Jerusalem is a sparse and nicely observed film, impressively performed by Colm O'Leary and Will Oldham, with a gentle humour and a real sense of compassion for its lead characters who are simply looking for a sense of reassurance in confused times.
Production company/sales: Made Bed Productions, Jagjaguwar, Blank Stare
Producers: R. Alverson, Courtney Bowles
Executive producers: Chris Swanson, Darius Van Arman
Screenplay: R. Alverson, Colm O'Leary
Cinematography/editor: R. Alverson
Music: Robert Donne, Champ Bennett
Website: www.newjerusalemmovie.com
Main cast: Will Oldham, Colm O'Leary