EXCLUSIVE: Watch the first full-length English-language trailer for samurai epic.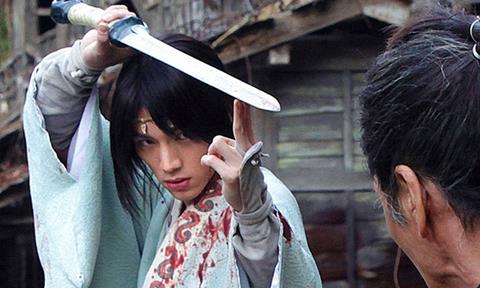 Screen can reveal the first full-length English-language trailer for Takashi Miike's samurai epic Blade Of The Immortal, which is playing out of competition in Cannes.
Watch the trailer, whose kick-ass theme song comes from Japanese musician Miyavi, below or on mobile HERE.
Magnet releasing recently acquired US rights to the movie which is sold by HanWay.
The film is based on Hiroaki Samura's long-running manga of the same name about a warrior enlisted by a young girl to avenge her parents' slaughter by master swordsmen.
Takuya Kimura stars alongside newcomer Hana Sugisaki, Sôta Fukushi, Ebizô Ichikawa, and veterans of the screen Min Tanaka, and Tsutomu Yamazaki.
Tetsuya Oishi wrote the screenplay and producers are Jeremy Thomas, Misako Saka, and Shigeji Maeda, in association with Warner Bros Japan.
Read more:
Takashi Miike talks 'Blade Of The Immortal' and Cannes
The latest Cannes news, reviews and features