Original Force produced and financed the animation; GFM handles sales in Cannes.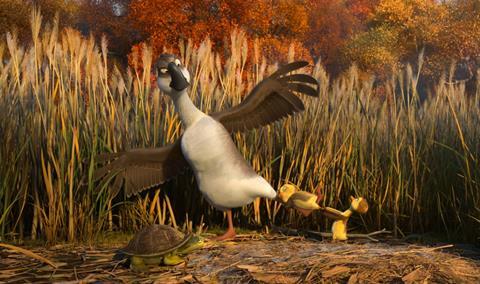 Open Road Films has acquired all US rights to the animated family comedy Duck Duck Goose and plans an April 20, 2018 release.
GFM Films and GFM Animation is handling international sales on the family film at Cannes.
In Duck Duck Goose, a high-flying bachelor goose named Peng is injured in flight and finds himself saddled with two demanding ducklings on a long journey south that will turn this scrappy threesome into a family.
Featuring the voices of Jim Gaffigan, Zendaya and Lance Lim, Duck Duck Goose is directed by Christopher Jenkins, written by Jenkins and Rob Muir, and produced by Penney Finkelman Cox and Sandra Rabins.
The film also features the voices of Greg Proops, Natasha Leggero, Reggie Watts, Diedrich Bader, Jennifer Grey, Rick Overton, Craig Ferguson, Stephen Fry and Carl Reiner.
CEO of Open Road Films Tom Ortenberg said: "We are thrilled to be in business with Harley Zhao and the team at Original Force. Sandy and Penney are legends in animation having launched Sony Pictures Animation and Dreamworks Animation, and their impressive track record developing and producing commercial and critical hits in this space speaks for itself."
Finkelman Cox and Rabins said: "Duck Duck Goose has been an amazing international collaboration from start to finish and we could not be more proud of the artistry, storytelling and the dazzling animation accomplished by the team at Original Force Animation. Everyone from China to Culver City is delivering a visually stunning and enchanting film that all audiences will fall in love with all over the world."
Ortenberg, general counsel, Marni Richman, and senior vice-president of acquisitions and production Lejo Pet brokered the deal for Open Road with Scott Edel from Loeb & Loeb on behalf of the filmmakers.