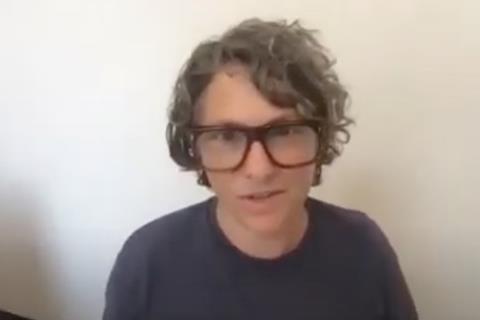 International writers, directors, producers, academic researchers and industry experts came together at the Carla 2020 conference held online from August 21-23 to debate how to create structural change in the film and TV industries post-Covid-19.
Speakers discussed themes including intersectionality, decolonisation, the queer gaze and activist movements through keynotes, panels and roundtables,
Transparent creator Joey Soloway spoke about how they believed it is time for white people, particularly white men, in positions of power to step aside: "It takes a really amazing person to just step aside, who is going to be at the height of their career, they're going to be a museum director, they're going to run a theatre company, they're going to run a studio, their dreams are coming true," Soloway said.
"They have more money than they've ever thought they would have. They have to step aside and say, 'I want to replace myself with a black woman, or a black trans woman.' If black trans women are leading, that means the rest of the world is okay. It means that the least powerful have made it to the top."
Soloway continued: "Don't look for the most powerful person. Don't look for the white guy. Don't look for the man. Don't look for the most experienced person. Look for the person who's ready to come in and share their leadership, share their vision, share their heart, there are so many people ready to do that. So I look at Hollywood, 10 years from now – all those people who are in power, they will be gone and all of our friends will have their jobs."
Carla was organised by gender equality organisation Women in Film & TV International and co-hosted by the Carl International Film Festival in Karlskrona, Sweden. It was supported by The Swedish Film Institute, Eurimages, The Swedish Postcode Foundation, Canada Media Fund, and Screen Ireland as well as dozens of further partners.
Screen highlights 12 key quotes from the conference:
Desiree Akhavan, filmmaker: "Where are the black faces in my own work? I never thought that was necessary because I am a 'niche' myself. But I'm re-evaluating my own choices. I want to change the rooms and the conversation. I shouldn't always be surrounded by the same faces and the same Oxford- educated women who are white and blonde."
Amma Asante, filmmaker: "There is no better way to walk in the shoes of another person than to place them as an audience member in a film, watching a film, and having them walk in the lead character's shoes for two hours. And that's why film and television is so important, because it's a way of immediately transporting us into experiences we may not have thought of or don't know how to understand in a way that's wider than our own perspective."
Shonali Bose, filmmaker: " It's important that you put any marginalised beings on camera in the mainstream, not just being black, gay or disabled. Just being that character."
Effie T Brown, CEO, Gamechanger Films: "As a black female CEO, right now I need to show that women, people of colour, LGBTQ, and people with disabilities are not a charity. We are actually good business. We can have a bit more leverage where we have our own resources, our own equity to start financing our own projects instead of going to other people who don't look like us who don't have the same experiences that we do."
Yvette Nicole Brown, actress, writer, activist: "I've moved more into the activist space. I'm unapologetically vocal about the things that matter: the election, black people being killed in the streets, I'm all about it. I don't care if it costs me jobs…You need to be on the right side of history and any platform we're given, we're given it in order to be a light. That's the only purpose. If you have a platform and all you talk about is lipgloss, who cares? People are literally dying so any art we create, any Zoom bubble we pop into, there needs to be something good about the choice to do it. There needs to be a reason we're showing up in these spaces and it has to be beyond someone thinking you're personally fetching or someone thinking you are important. Either we're all important or none of us are important. That's what's important to show in our art."
Paul Feig, filmmaker: "While I really think mentorship is really important, I think sponsorship is the most important thing. Because I think for any of us who have any kind of say or clout to not use that to create opportunity, that's the biggest problem. What we're doing with ReFrame and the sponsorship we're doing there, is to be able to go in and say to a studio and say, 'We guarantee this person could do it.' That's one of the reasons I wanted to create my company Powder Keg, because even though it's short form, some female directors don't have the opportunity that a lot of male directors have just to have a calling card."
Tabitha Jackson, director, Sundance Film Festival: "I'm involved in independent media and value it because the value of independent cinema is generally located in difference, in resistance, in opposition, in alternative representations. It's the most effective mechanism for the transmission of ideas. And film festivals like Sundance and many others form together a circuit of meaning making."
Gale Ann Hurd, producer: "I've been saying this for years. We need, as viewers and audience members, to support women filmmakers, to support the content that we want to see and be vocal about it."
Jim LeBrecht, filmmaker: "[To make it in the film industry] you have to start as an intern who can run around and get coffee and go make photocopies and work 20-hour days, and that filters out a lot of people, not just with disabilities. So, we have to look at the system that allows people to rise and realise that there's ableism and there are barriers throughout. It's the responsibility of the people in the industry to take a hard look at it and fix it."
Ita O'Brien, intimacy coordinator: "It's interesting how a man can be naked from the waist up and that's fine, but for a woman to be naked from the waist up, which means being naked breasted, again there's a certain taboo there. There's a taboo about the female nipple. I think there's one point in the watershed when you can show a male naked nipple and not a female. It's interesting within our society, our comfortableness, our relationship with female nudity."
Heather Rae, producer and activist: "One of my issues with the notion of diversity is the idea that somebody who is 'diverse' is somehow diverse to some sort of standardized norm. In other words, we are diverse in contrast to a standardized norm, which effectively is whiteness or maleness or CIS gender-ness or able bodied-ness. But that's an illusion. There is no standardised norm of humanity."
Penny Smallacombe, head of indigenous, Screen Australia: "Not only do we want to support Indigenous writers and directors to make amazing content but we want to own content and want to be able to exploit it for our communities. It is our IP and these are our stories. There's a shift that definitely happening right now, not just wanting to tell stories but wanting to own them as well."