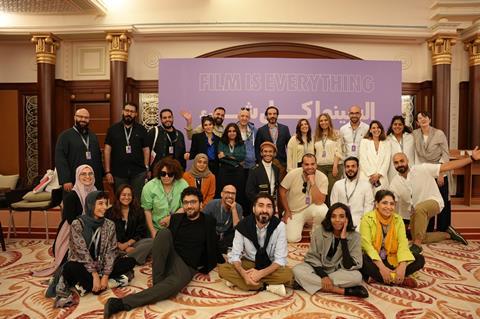 The Red Sea Labs has unveiled 12 projects from new filmmakers from Saudi Arabia and the wider Arab and African region which have been selected for the Red Sea Lodge, its development programme in collaboration with the TorinoFilmLab and sponsored by Film AlUla.
The Lodge is an intensive 10-month mentorship programme, aimed at the next generation of emerging filmmakers to help turn their project ideas into a reality.
The first Lodge workshop will take place on the 14 March in the Saudi filmmaking hub of AlUla, with the final workshop and presentation of the selected projects taking place during the third edition of the Red Sea International Film Festival (November 30 – December 9) in Jeddah.
This year the Lodge has opened to Africa to be included with the Saudi and Arab projects.
The winners of programme will take home a share of $200,000 to help kickstart their projects and build on the key learnings from the workshops.
"The Red Sea Labs are growing into a wide-ranged platform with multiple programmes including the Lodge so that we can build an echo system, in which we develop the filmmakers so they can apply to the Fund and find their opportunities in the Souk," said Ryan Ashore, head of The Red Sea Labs.
Shivani Pandya Malhotra, managing director of the Red Sea International Festival said: "The Lodge, in partnership with TorinoFilmLab, provides vital support to the next generation of film talent coming out of the region."
Red Sea Lodge 2023 projects
Saudi Arabia projects
How To Not Get Married In Saudi Arabia
Dir/scr: Ghadeer Binabbas
Prod: Emmanuel Mayer
Sukun
Dir/scr: Lina Mahmoud
Prod: Abdulghani Alsaigh
Mecca Berlin
Dir/scr: Mujtaba Saeed,
Prod: Nadia Eliewat
Co-Writer Ghiath Mhithawi
By Hasnaa's Side
Dir/scr: Amaal Yousef
Prod: Ghaidaa Abuazzah
Lost Soul
Dir/scr: Sarah Mohammed Almuneef
Prod: Séverine Tibi
Arab region projects
An Endless Night
Dir/scr: Mohamed Kassaby
Prod: Mohamed Kateb
To Each Their Own
Dir/scr: Samer Battikhi
Prod: Fatma Racha Shehadeh
Temporary Lives
Dir/scr: Wessam Hachicho
Prod: Amélie Quéret
The Sun Has Seen Everything
Dir/scr: Wissam Tanios
Prod: Christian Eid
My Father Killed Bourguiba
Dir/scr: Fatma Riahi
Prod: Erige Seheri
Co-Writer Louai Haffar
Africa projects
Black Snake
Dir/scr: Naishe Nyamubaya
Prod: Sue-Ellen Chitunya
Fantastic Tale
Dir/scr: Vincho Nchogu
Prod: Joshua Olaoluwa