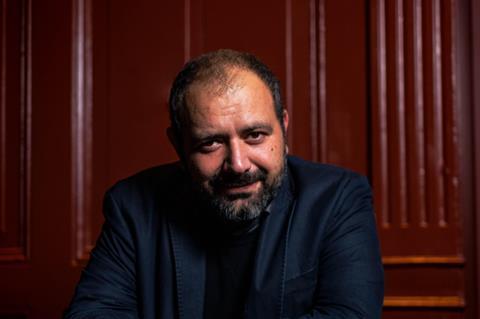 As he prepares for start of his his third edition on November 18 at the helm of IDFA, artistic director Orwa Nyrabia strikes a philosophical note about the challenge of staging the world's biggest documentary festival in the midst of a global pandemic.
The Syrian filmmaker and human rights activist has seen plenty of upheaval during his own life and career. "I come from one of those countries where this uncertainty and risk is like water and bread," he wryly reflects. "I hope I managed to be a good support to my team because I am quite used to this level of not knowing what is going to happen."
With Dutch cinemas (hopefully) re-opening on November 19, albeit with a maximum of 30 spectators per venue, that means most of IDFA's programme can be seen on the big screen locally, even if very few international guests will be in attendance physically. However, the opening ceremony and opening night film - Paraguan filmmaker Arami Ullón's Nothing But The Sun - will take place online the evening before on November 18. (IDFA's industry activities began on Monday November 16.)
Still, more than 2,000 accredited guests expect a meaningful event online. In total, 257 films will be screening, selected from around 4000 submissions.
How important for you is it that IDFA's films are, if possible, seen on the big screen?
We are not keen on cancelling the theatrical experience unless it is truly necessary.
I truly believe we do not live alone. It is not a question of what IDFA as an organisation would like to do. There are other stakeholders. We have an audience who would love to be in our hygienically-organised screenings. This is not about people opposed to Corona regulations. It's the opposite – they would like to see a safe solution from us.
Second, there are the cinemas. They are allowed to open on the 19th but if they don't have good content, they might be able to re-open. The vote from the theatres is that a festival like IDFA can help can kickstart the return.
There are also the filmmakers. Even though it's only 30 people per screening and most of the filmmakers can't even come to their own premieres, they are still happy that the premiere is in a cinema and not only online.
You have 257 films. Will they all be on the big screen?
The actual cinema sessions are 170 because we are talking about combinations of short films and mid-length films.
What are the economic implications of the pandemic for IDFA, given the huge number of tickets you normally sell?
There is an extra subsidy from the Dutch Ministry of Culture. This means we are privileged compared to others. We are certainly not having a good year financially, but it is something we can survive.
And what opportunities has staging a hybrid festival provided? Are there silver linings?
We have followed the experiences of other festivals that went online, partly or in full, and we can see there is interesting potential in operating in an international context but with less CO2 emissions. And the tribulations this year gave us a rare opportunity to think about the business itself; to re-think the core of what we do, why we do it and what is the actual meaning of what we do? What is it that really matters? That is the massive win of this year, making us re-think the basics.
Even though you have a reduced number of titles, you have films produced or co-produced by more than 70 countries?
That was a very premeditated choice. We worked hard on scouting in different regions of the world. It is part of the process throughout.
What did you love about opening film Nothing But The Sun ?
It can be seen as a film on the environment, a film on colonialism, and a film on faith. It is tackling some of the most urgent questions of our era. This all comes through the ambitious artistic style of the filmmaker, Arami Ullón. She does not compromise on the way she constructs the film, on the way she understands image or in her relationship with her main protagonist.
How will you stage the opening given the ceremony and opening film will be online due to the pandemic restrictions?
The idea is to make an opening that can engage all of the filmmakers who cannot come [to Amsterdam]. The longest opening celebration I was part of at IDFA since I became artistic director was 25 minutes., For me, an opening is about a few brief, meaningful words, but it is really about the film.
Others have observed that festivals are working more closely than ever because of Covid. Do you agree?
This camaraderie between different festivals is something very precious we are experiencing this year. I will invest very seriously into taking this beyond the Corona period.
What have you learned from other festivals?
We did learn a lot but we are also coming out with our own very risky approach. Our online festival will not be a typical online platform. It will be a pre-scheduled scheme of livestream screenings. Audiences will buy a ticket to see a film at an exact moment. This will allow us to follow the screenings with a live Q&A.
Are you happy with the programme, in spite of everything?
We have an outstanding selection. That is the main power, the thing that will carry this edition forward. I think the main competitions are made up of very passionate films. In all of them you feel there is an author behind the film who is profoundly passionate about what they are doing. You feel the breath, the anger, the emotional rollercoaster of the filmmakers in all of these films, even the ones with a more contemplative and subtle approach. In an era when more commercial documentary is taking place, I think it is very special to see such a line-up, of films made because the filmmakers cannot but make them. It's a triumph of art over craft.