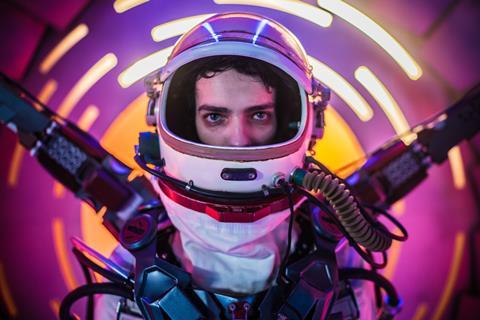 London-based sales outfit Kew Media Distribution (KMD) heads to AFM next week with a slate that includes Nick Broomfield's documentary My Father And Me, sci-fi 2067 starring Kodi Smit-McPhee and Ryan Kwanten, and Susan Hill's The Small Hand: A Ghost Story.
2067 takes place on an earth ravaged by climate change when a utility worker who may hold the key to mankind's survival is dispatched to the future and lands in a luscious green world where he seems to be the only person around.
Seth Larney directed the Arcadia, KOJO, Freedom Films and Futurism Studios production, and Lisa Shaunessy, Kate Croser and Jason Taylor produced. Executive producers are Michael Rymer, Alexandra Burke, Craig McMahon, James Boyce, Claire Evans, Geoff Clark, Clement Dunn, Will Gammon, Adam Scott, and Josh Pomeranz.
My Father And Me sees Broomfield (Marianne And Leonard: Words Of Love) premiered in New York Film Festival's Spotlight On Documentary section and explores the filmmaker's relationship with his humanist-pacifist father, Maurice Broomfield. Mark Hoeferlin, Shani Hinton and Kyle Gibbon produced the Lafayette Film production.
Susan Hill's The Small Hand: A Ghost Story from Awesome / Two Rivers Media for Channel 5 stars Douglas Henshall as a dealer in antique books who encounters a ghost carrying a secret from his childhood. Justin Molotnikov directed from a screenplay by Barbara Machin and the cast includes Louise Lombard, Adrian Rawlins, and Cal MacAninch.
KMD's sales roster includes John Barr's directorial debut feature Allagash starring Tom Berenger as a retired veteran hunting in the wilds who encounters a body and a criminal stash. The film will get a premiere market screening, as will John Suit's sci-fi thriller 3022 from Squid Farm starring Omar Epps, Kate Walsh, and Miranda Cosgrove.
Rounding out the slate is a trio of documentaries. Slay The Dragon from Barak Goodman premiered at Tribeca, and is presented by Participant in association with React Films and Ark Media Production and follows a group of social activists; Juice: How Electricity Explains The World crosses the globe to explain people's ties to the energy resource; and Long Live Rock takes a broad look at the world of celebrity rock 'n' roll and its impact on band members and fans.
KMD will continue talks on Alex Gibney's Citizen K and Grace Sweeney's documentary The Sheriff, among others.
"The widening array of movie-watching experiences, be it theatrical or streaming, is allowing great films to find audiences more efficiently than ever before, while creating greater demand amongst distributors," said KMD executive vice-president of sales Jonathan Ford. "Coming into this AFM with such a diverse slate means we'll be busier than ever – developing the best sales and release strategy for each title."