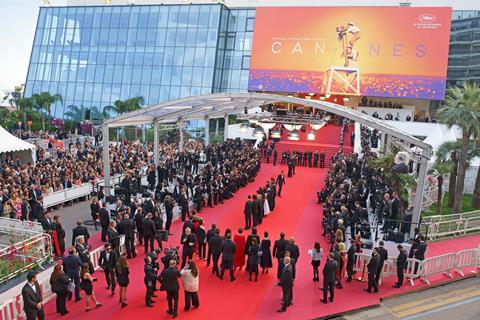 The world's leading film festivals have issued an urgent call for national and regional support as the Covid-19 pandemic wreaks havoc on the international film industry.
A total of 41 international film festivals, including Cannes, Venice, Berlin and Toronto, have signed the joint paper that urges national and regional institutions (including the European Union) to adopt immediate relief measures.
The paper, issued by FIAPF (International Federation of Film Producers Associations), has been co-signed by eight international trade organisations and unions such as UNIC (International Union of Cinemas).
Released on the eve of the Venice Film Festival, it highlights how festivals have been forced to postpone or cancel due to the virus crisis, resulting in major financial losses. Those that have gone ahead as physical events have done so with reduced attendance due to social distancing measures and international travel restrictions.
The impact on the film industry is also highlighted, as projects lose crucial international exposure and opportunities for distribution deals.
"This significant economic weight of international film festivals needs to be preserved with dedicated measures and a firm commitment from local, national and regional decision-makers in accompanying festivals' Covid-related transition - whether they can or cannot operate in 2020 - and their future operations from 2021 onwards," the paper stated.
According to FIAPF, film festivals recorded 4.5 million admissions in 2017, with nearly 1,700 films receiving a world premiere at an accredited festival. It also emphasised the benefits to the hotel, restaurant and café sector, with Cannes creating 2,000 jobs and generating close to €200m for the local economy each year.
Putting his name to the paper, Venice Film Festival director Alberto Barbera said: "The global film industry has never been hit so badly in his entire history. On the eve of the reopening of theatres and the restart of film shooting, it is more than necessary to join forces and make the maximum support possible. Festivals are a powerful tool at the service of cinema, culture and social development, but they have been weakened too and need to be reinforced to be able to continue their crucial and indispensable work."
In a joint statement, TIFF co-heads Cameron Bailey and Joana Vincente said: "The economic impact the festival has on its host city is significant, creating jobs, bringing in tourists from all over the world, and stimulating employment in the service industries."
Locarno artistic director Lili Hinstin stated that film festivals "have a major economic impact on the culture sector as a whole, by introducing new films to the stakeholders who will then commercialize it in each country. Film festivals are also about shaping the future and attitudes of upcoming generations."
Issuing the joint paper, FIAPF president Luis Alberto Scalella said: "Supporting the festival community means supporting the entire film industry. That is why, after standing by festivals and advocating solidarity and collaboration since the beginning of the Covid-19 crisis, the international producers represented by FIAPF are proud to support the call for action… This initiative sends a strong signal: film festivals do matter, accordingly they deserve economic relief measures."