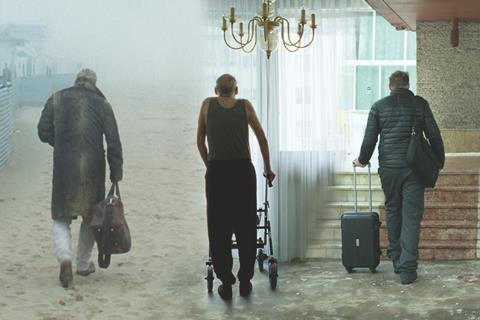 International Film Festival Rotterdam (IFFR, January 25-February 5) has added a slew of world premieres including Palestinian filmmaker Muayad Alayan's A House In Jerusalem and a combined yet different experience of controversial Austrian filmmaker Ulrich Seidl's diptych Rimini and Sparta, titled Wicked Games Rimini Sparta.
A House In Jerusalem is a project formerly presented at IFFR's co-production market CineMart, and will premiere in the Limelight section. A House In Jerusalem is a drama centring on a girl forced to move with her father from the UK to Jerusalem, in the hope that a new beginning can help her heal from her mother's sudden death. Johnny Harris and Miley Locke star.
Alayan co-wrote the feature which he produced with his brother and long-time collaborator Rami Alayan plus Abeer Salman through their PalCine Productions banner alongside the UK's Wellington Films. Greece's Heretic is handling sales.
The directors' previous features include Rotterdam 2018 premiere The Reports On Sarah And Saleem.
Also world premiering in the Limelight section is Superposition, Danish filmmaker Karoline Lyngbye's first feature, a metaphysical thriller about urban middle-class artists and intellectuals who leave Copenhagen for the wilds of neighbouring Sweden's forest, and the debut from Dutch filmmaker Aaron Rookus, Goodbye Stranger, about an Amsterdam native whose possible move to London prompts an existential crisis.
Celebrated Japanese anime creator Oshii Mamoru's tale about four schoolgirls and a vampire I Can't Stop Biting You also has its international premiere in this strand.
Seidl's Wicked Games Rimini Sparta will screen in the Harbour section. Produced by the Coproduction Office, the screening combines the stories of two brothers whose tales were told in his separate works, Berlin 2022 premiere Rimini and San Sebastian 2022 premiere Sparta. Seidl had initially intended for these two stories to be told in one film.
The first winter-set movement interweaves footage from the two films, while the second focuses on the character of Ewald's Sparta fantasies.
A report in Hamburg-based news magazine Der Spiegel in early September alleged child actors in Sparta were insufficiently protected on set; in particular that the filmmaker did not tell the youngsters or their guardians of the film's themes before they were exposed to nudity, alcoholism and violence.
Seidl has denied the claims and his lawyers have said no children were filmed naked or exposed to potential harm.
The Toronto film festival withdrew its invitation of a world premiere and Seidl did not travel to San Sebastian for what was then the film's world premiere.
Fellow Austrian and IFFR stalwart Peter Schreiner presents the world premiere of Tage. While working on a film called Cinematic Letters, Schreiner was diagnosed with cancer. While that project was terminated for being too logistically demanding, he decided to make a new film. While not a memori of his battle with his illness, it explores what is possible creatively when one's body is in an ailing state.
Italian filmmaker Lyda Patitucci's crime thriller Come Pecore In Mezzo Ai Lupi also world premieres in Harbour, alongside Namibian filmmaker Perivi John Katjavivi's Under The Hanging Tree, about a city officer assigned to a morbid case in a small desert town in Namibia.
The Dutch premiere of Filipino filmmaker Lav Diaz's film noir Venice title When The Waves Are Gone has also joined the line-up in this section, alongside Dionne Edwards' BFI London Film Festival title Pretty Red Dress which will international premiere in Harbour.