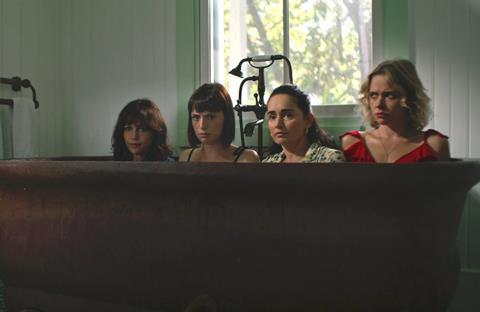 Tom Hooper, Roland Emmerich and Resident Evil franchise director Paul W. S. Anderson are in talks to make shows with AGC Television. The US company is reaping the benefits of a "parallel tracks" strategy to secure project backing via streamers and independent film financing practices.
While a series like Gabriel Garcia Marquez adaption News Of A Kidnapping was fully financed by Amazon, which will release the thriller worldwide in August, AGC Television has also deployed pre-sales, split rights deals, co-productions and equity financing to move ahead on its slate on content and enable producers to skip the greenlight bottleneck at platforms and studios.
"We're taking the same attitude to risk and reward in the TV production spaces we have done for a long time in the film space," said AGC Studios head Stuart Ford. It is an approach that has allowed the company in some cases to reconfigure projects originally conceived as features into episodic fare.
Hooper, who won the best directing Oscar for The King's Speech, is in talks to direct a series adaptation of Jean Anouilh's Becket by writer Steve Thompson (Sherlock, Leonardo), while Inferno, based on an original genre feature pitch by Neil Blomkamp, has been adapted by Kandahar writer Mitchell LaFortune into a series on which AGC Television is in active discussions with financing and distribution partners.
Further projects to switch format to TV will include action dramas involving Anderson, Emmerich and Paul McGuigan (Sherlock, Scandal, Film Stars Don't Die In Liverpool). AGC is also lining up a dramatised feature version of The Tindler Swindler after it retained narrative spin-off rights to the hit Netflix documentary it produced with Gaspin Media.
"We enjoy making TV with our streaming partners, but what's allowed us to build up a head of steam even during the pandemic was having parallel production tracks," said AGC's head of television Lourdes Diaz, who alongside the English-language slate runs a roster of Spanish-language and bilingual content including upcoming comedy drama Prima Donna based on an idea by Ozark creator Mark Williams to star Mexican actor Ana de La Reguera.
Benefitting from the financial backing of Amazon on News Of A Kidnapping, Diaz noted, "was probably the best way for that show to get made in Columbia during Covid". She continued, "But in the same window we fully financed and also shot in Latin America Sebastian Gutierrez's heist series Leopard Skin (pictured) starring Carla Gugino, Ana De La Reguera and Jeffrey Dean Morgan and then licensed US rights to Peacock and international rights to Lionsgate Television only after the show was fully completed." A November worldwide release has been set.
Another example is crime series Troppo starring Thomas Jane on which AGC partnered with Australian Broadcasting Corporation to fund production. It pre-sold US rights to Amazon's AVoD service IMDb TV (now Freevee) prior to production, then licensed all remaining international rights to Leonine after the shoot wrapped.
Partnering with Canal Plus and Fox Networks Group Europe & Africa on Gabriel Byrne sci-fi series War Of The Worlds, now in production on a third season, AGC sold US rights to Epix after the first season was completed. Upcoming Patricia Clarkson and Lydia West spy drama Gray pre-sold to Lionsgate Television and AGC deficit-financed against the US. Production is scheduled to start June in Canada.
"The twin approach of making films both independently and for studios or streamers is more or less the norm in the features world," said Ford, who hired Diaz four years ago and regards her as one of the best Latinx executives in Hollywood. "But maybe because there's been such a vast appetite for original series production in the US marketplace, it seems to be less common for most US-based companies to play so extensively and to consistently assume risk in the international co-production arena even though there's no shortage of international producers importing shows into the US."