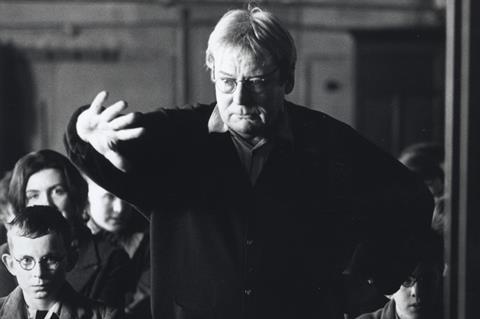 Tributes from across the industry have been paid to filmmaker Alan Parker, who died on Friday (July 31), aged 76.
Former colleagues talked warmly of Parker's achievements as a filmmaker, his work for public bodies including the BFI and the UK Film Council, his loyalty to friends and his encouragement of young talent.
"Alan was my oldest and closest friend," said producer David Puttman, Parker's long-time collaborator with whom he first worked at Collett Dickenson Pearce (CDP) in what was later called 'the golden age of advertising' in the 1960s. "I was always in awe of his talent. My life, and those of many others who loved and respected him will never be the same again."
"Alan Parker was an inspiration in as much as he was a working-class kid who grew up in the same very small area I did, around the Chapel Street market, which was the hub of working-class Islington," said producer Stephen Woolley of Number 9 Films, who attended the same school as Parker, Dame Alice Owens' School for Boys, in Hertfordshire. "He was inspirational on that level of people like Michael Caine and Bob Hoskins, people who had come from a non-film background and a working-class background and had had an impact on the film industry."
"Alan was of course a brilliant film-maker. But he was also a genuinely lovely man, warm, witty and wise; he wore his brilliance lightly," said Chris Smith, who served as the UK Culture Secretary between 1997 to 2001 and who brought in Parker as chair of the UK Film Council (UKFC). "And there was something else too. He had a real dedication to public service; he wanted to help the film industry as a whole to flourish and was prepared to put in the hard work to ensure that happened. This was a special combination of things, and he was therefore the perfect choice, especially when I was setting up the Film Council and needed someone special to lead it."
"Alan is a filmmaker I really admired when I was getting into the business," noted director Gurinder Chadha. "He directed The Evacuees [for BBC's Play Of The Day in 1975] which I saw as a child. Between him and [writer] Jack Rosenthal, it was the first time that I got a sense of what otherness is in Britain and the idea of another community, the British-Jewish community. From that moment, I've been following his career. What I love is that every film he has made is so different to the other. That is where he is really underrated as a director, his ability to go from Bugsy Malone to Midnight Express and Birdy. I thought Birdy was one of the best anti-war films I've ever seen and the performances were phenomenal."
"When he became chair of the UK Film Council, he reached out to me and said 'you have to be part of this Gurinder.' I said, 'What, me?' [the UKFC went on to back Chadha's Bend It Like Beckham]. In his own way, he made sure someone like me was represented [on the board] of this new UK Film Council. I would wholeheartedly say he was a mentor to me. People like to pigeonhole me as doing certain types of films but my interests are huge…what I loved about Alan is that with each of his films, people would say, oh no, he's a Brit from Islington, that is not his cup of tea but actually he went out and made films people probably wouldn't expect him to make. I loved that and that is where I was inspired by him."
Film career
Alan Parker was born in London on February 14, 1944. He began his career in advertising before directing The Evacuees, written by Jack Rosenthal for the BBC. in 1974. He then wrote and directed his debut feature film, Bugsy Malone, in 1975, The film was produced by Alan Marshall and co-executive produced by David Puttnam, both of whom had started their careers with Parker in advertising.
Parker's further varied film credits included Midnight Express (1978), Fame (1980), Shoot The Moon (1982), Pink Floyd - The Wall (1982), Birdy (1984), Angel Heart (1987), Mississippi Burning (1988), Come See The Paradise (1990) The Commitments (1991), The Road To Wellville (1994), Evita (1996) Angela's Ashes (1999) and The Life Of David Gale (2003).
He also drew satirical cartoons for Screen International in the 1980s. He was knighted for services to the film industry in 2002 and recieved a Bafta fellowship in 2013.
Michael Kuhn, producer and former head of PolyGram Filmed Entertainment (PFE), remembers meeting and working with Parker in the 1990s
"Alan was just such a genuine person. He was incredibly kind and just a sweet person," Kuhn said of the director who made Angela's Ashes for PFE.
He drew attention to Parker's humour. "I used regularly to have lunch with him in Soho long after he had stopped making films. [Once] we had just left the restaurant. He was bursting for a pee. I said, ' You're asking the right man here because I know every single place where it is good to have a pee in the West End'. He said 'There's nowhere round here'. I said, 'Yes, there is - there's the loo right next to the shoe department at Liberty's'. He dashed in there, came back and within five minutes of getting home, sent me a cartoon with a little man digging through a huge pile of shoes saying 'There must be a loo here somewhere.'"
"I saw him regularly at Arsenal [Football Club], which he loved," Kuhn continued. "At Arsenal, although he had the poshest seats, the person he sat next to all the time was his boyhood friend who he had been at school with, at Owen's."
Adrian Wootton, chief executive of the British Film Commission and Film London, first met Parker in the early 1980s when Wootton was a 19-year-old student in Norwich. Wootton and a friend interviewed the director, who had just made Shoot The Moon, for a student newspaper. "We were gauche young students and he was already a very prominent filmmaker. He was incredibly kind and generous. He never forgot that I had interviewed him all those years ago."
Kuhn suggested Parker's often outspoken comments about the state of the UK industry, for example his remarks about the UK's National Film and Television School, which he once likened to a "derelict building site," invariably provoked change for the better. "Everything he said was right. His trenchant criticisms often did drive people on to put things right."
"When I started in the film industry, there was no film industry in the UK," said Kuhn, "Even [producer David] Puttnam had given up making films. Film Four was just starting and Parker had done his famous acerbic documentary [1985's A Turnip Head's Guide To The British Film Industry]. The fact of the matter is he was completely right. There was no industry and something had to be done about it…again, it was his way of not sucking up to anybody but saying what he thought which spurred people on to do things."
Stewart Till, another former PolyGram executive, who was also Parker's vice-chairman at the UK Film Council, spoke of his long friendship with Parker.
"We got on like a house on fire through a mutual love of football. That was the start of a very long and, for me, incredible friendship," said Till. "He was a hero to me and the best of friends."
"He was just a brilliant creative genius. Probably the greatest director of that generation, certainly the great British director of that time. He was just jaw-droppingly creative and smart - and understood the business side of it too, often better than the businessmen understood it."
Outspoken criticism
Parker became chairman, first of the British Film Institute in 1998 and then of the newly formed UK Film Council which launched in 2000. He took on these roles in spite of his often-outspoken criticism of the UK film establishment.
"The thing about Alan was that he didn't do anything lightly. He did everything with incredible deliberation," said Till. "He was not indecisive but every decision was really thought through. Probably 49% of him said well, 'I've been so cynical of the BFI and the public sector' but 51% of him said 'I know I can make a difference.,'"
Till remembered Parker as a "very hands-on chair" of UKFC who never missed a board meeting. "Interestingly enough, for a director, he was very democratic," Till said.
"Board meetings were very democratic. They were often very vocal people like [producers] Tim Bevan and Duncan Kenworthy - smart, opinionated, not shy people. Alan let everyone have a say and let the board make the decisions collectively. He brought charisma and a lot of personality… the government so respected him. From day one, we had the support of [culture minister] Chris Smith, the DCMS and the government in part because they were so respectful of Alan."
Emma Clarke, who was a senior executive at the UK Film Council, first met Parker when she was 14 years old. Her father worked in advertising and knew Parker, who had been invited to dinner.
"The first adult dinner party my parents allowed me to come and join in the house was for eight people. Alan was a guest. I was so excited. I sat next to him. This poor man had this 14-year-old asking endless questions about [his film] The Wall," Clarke remembers. "He was so lovely, just always incredibly kind to me when I saw him - gave me time and was incredibly sweet.
Clarke joined the UKFC at its inception. She remembers Parker was "hands off" with the UKFC's various funds. "But he was a brilliant figurehead for them to have chosen. He was one of those British filmmakers who is internationally renowned; who was extremely classy, with an amazing body of work, and was outspoken. That was incredibly important because the Film Council, when it was set up, was trying to do something different."
"I thought he was very avuncular and lovely but I know he wasn't that way with everybody," Clarke admitted. 'The thing about Alan is that he had already got very successful in advertising. By the time he came to film he had already made something of himself from a very ordinary if not poor background. He just didn't suffer fools. You wouldn't have crossed him - but I think that is an admirable quality."
"My main relationship with Alan was through the Film Council," recalled Working Title Films' Tim Bevan. "He asked me to be on the board. He was brilliant actually. Being a maverick, he was a good person to be chairing it. He was unbelievably open-minded. He wanted everyone to have a voice. He was equally interested in what [broadcaster] Joan Bakewell or me or [businessman and Arts Alliance founder] Thomas Hoegh or some commercial person had to say.
"The other great thing about Alan is that he was always a laugh. Everything always ended up as a bit of a joke."
Great loyalty
Dennis Davidson, founder of marketing and publicity company DDA, first worked with Parker on Bugsy Malone in 1976, beginning an association which lasted for over 20 years.
"He was an incredible filmmaker and an incredible personality. He was larger than life," Davidson said. "He was vitriolic about many things - the studios, the press from time to time, distribution, the whole Hollywood scene but invariably people, after the worst battles, wanted to work with him again because he was so talented."
"What was remarkable about him was his loyalty to his hardcore crew, whether that was David Wimbury who [line] produced many of his films, David Appleby who did the stills photography, or Gerry Hambling his editor," Davidson added.
Filmmaker Dexter Fletcher, whose credits include Rocketman and Sunshine On Leith, appeared as a child actor in Bugsy Malone as 'Baby Face'. He acknowledged Parker's key formative role in his career. "Sir Alan inadvertently changed my life at the age of nine when he stuck me at the end of a line of 30 kids, passing a baseball bat, all whilst saying 'Give this to Babyface'. He told me to say something different on every take (In the one he used, I said 'I am Babyface!')," Fletcher said. "I'm extremely proud that people still recognise me from Bugsy Malone 45 years later. It's a testament to the pure joy of Sir Alan's first film"
Fletcher described Parker as "a maverick from the outset" whose "films and visions were never compromised."
"As anyone who worked closely with him will tell you. He was one of the great, diverse, eclectic and original British filmmakers of his generation and my personal directing hero."
Champion of film education
Many luminaries from the UK film industry have issued statements commemorating Parker.
"It is an enormous loss to the world of cinema and a huge personal loss to his devoted family and friends who loved and admired him," said Eon Films' Barbara Broccoli. "His work always exhibited the elements of his personality that we so cherished; integrity, humanity, humour and irreverence and rebellion, and most certainly entertainment He exhibited a curiosity that enabled his versatility from musicals such as Bugsy Malone, Fame and Pink Floyd - The Wall and to films about social justice such as Midnight Express, Mississippi Burning and The Life of David Gale; he never made the same film twice.
"He never forgot his roots and made a commitment through his work with the BFI and the UK Film Council to champion the education and accessibility of the film industry to all young people," Broccoli continued. " In 2001 he founded First Light and asked me to become its chair that organisation has now developed into INTO FILM and continues to promote his ambition of film for all children and it will continue to spread his legacy."
BFI chair Josh Berger commented: "We are all mourning a true giant of British cinema. Alan Parker pushed back the boundaries and dared us to see films in a different light. His early writing career in advertising set him up perfectly to become the great storyteller he was, and with each new film he challenged those around him to make it the best."