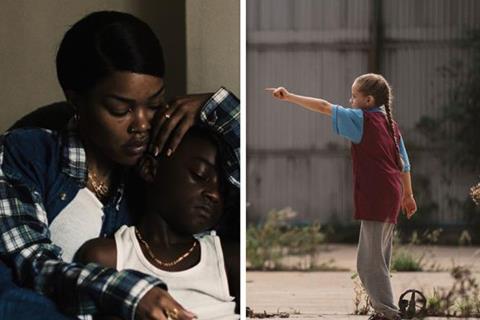 A.V. Rockwell's A Thousand And One took the 2023 Sundance U.S. Grand Jury Prize: Dramatic prize and Charlotte Regan's UK entry Scrapper earned the World Cinema Grand Jury Prize: Dramatic at the 2023 Sundance awards ceremony on Friday.
Audience award winners included Maryam Keshavarz's The Persian Version in U.S. Dramatic Competition, Madeleine Gavin's Beyond Utopia in U.S. Documentary, Mstylav Chernov's 20 Days In Mariupol in World Cinema Documentary, and Noora Niasari's Shayda in World Cinema Dramatic.
Sundance Institute CEO Joana Vicente said the selection "demonstrated a sense of urgency and dedication to excellence in independent film". Sundance Film Festival Director of Programming Kim Yutani added the films "contextualize our artists' work beyond the Festival programme and elevate their stories to new audiences around the globe".
The festival opened on January 19 and runs through Sunday (January 29.) In total 111 features and 64 short films — selected from 15,856 submissions — were presented in Park City, Salt Lake City, and at the Sundance Resort. More than 75% of the features along with Shorts and Indie Episodics are available on the festival's online platform through Sunday.
This year's jurors were: Jeremy O. Harris, Eliza Hittman, and Marlee Matlin for U.S. Dramatic Competition; W. Kamau Bell, Ramona Diaz, and Carla Gutierrez for U.S. Documentary Competition; Shozo Ichiyama, Annemarie Jacir, and Funa Maduka for World Cinema Dramatic Competition; and Karim Amer, Petra Costa, and Alexander Nanau for World Cinema Documentary Competition; Madeleine Olnek for the NEXT competition section; Destin Daniel Cretton, Marie-Louise Khondji, and Deborah Stratman for the Short Film Program Competition.
Grand Jury Awards
U.S. Grand Jury Prize: Dramatic
A.V. Rockwell, A Thousand And One
U.S. Grand Jury Prize: Documentary
Joe Brewster, Michèle Stephenson Going To Mars: The Nikki Giovanni Project
World Cinema Grand Jury Prize: Dramatic
Charlotte Regan, Scrapper (UK)
World Cinema Grand Jury Prize: Documentary
Maite Alberdi, The Eternal Memory (Chile)
Festival Favorite Award
Radical
Dir: Christopher Zalla
Audience Awards
U.S. Dramatic Competition

The Persian Version
Dir: Maryam Keshavarz
U.S. Documentary Competition
Beyond Uptopia
Dir. Madeleine Gavin
World Cinema Documentary Competition
20 Days In Mariupol (Ukr)
Dir: Mstylav Chernov
World Cinema Dramatic Competition
Shayda (Australia)
Dir: Noora Niasari
NEXT
Kokomo City
Dir: D. Smith
Jury Awards For Directing, Sceenwriting and Editing
Directing Award: U.S. Documentary
Luke Lorentzen, A Still Small Voice
Directing Award: U.S. Dramatic
Sing J. Lee, The Accidental Getaway Driver
Directing Award: World Cinema Documentary
Anna Hints, Smoke Sauna Sisterhood (Est-Fr-Ice)
Directing Award: World Cinema Dramatic
Marija Kavtaradze, Slow (Lith-Sp-Swe)
Waldo Salt Screenwriting Award: U.S. Dramatic
Maryam Keshavarz, The Persian Version
Jonathan Oppenheim Editing Award: U.S. Documentary
Daniela I. Quiroz, Going Varsity In Mariachi
Special Jury Awards
U.S. Dramatic Special Jury Award: Ensemble
Theater Camp
U.S. Dramatic Special Jury Award: Creative Vision
Magazine Dreams
U.S. Dramatic Special Jury Award: Acting
Lio Mehiel, Mutt
U.S. Documentary Special Jury Award: Clarity Of Vision
The Stroll
U.S. Documentary Special Jury Award: Freedom of Expression
Bad Press
World Cinema Documentary Special Jury Award: Creative Vision
Fantastic Machine (Swe-Den)
World Cinema Documentary Special Jury Award: Verite Filmmaking
Against The Tide (India)
World Cinema Dramatic Special Jury Award: Creative Vision
Sofia Alaoui, Animalia (Fr-Mo-Qat)
World Cinema Dramatic Special Jury Award: Cinematography
Lílis Soares, Mami Wata (Nigeria)
World Cinema Dramatic Special Jury Award: Best Performance
When It Melts (Bel)
NEXT Innovator Award presented by Adobe
Kokomo City
Short film awards presented by Shutterstock
Short Film Grand Jury Prize
When You Left Me On That Boulevard, Kayla Abuda Galang
Short Film Jury Award: U.S. Fiction
Rest Stop, Crystal Kayiza
Short Film Jury Award: International Fiction
The Kidnapping Of The Bride (Ger), Sophia Mocorrea
Short Film Jury Award: Animation
The Flying Sailor (Can), Wendy Tilby, Amanda Forbis
Short Film Jury Award: Non-Fiction
Will You Look At Me (China), Shuli Huang
Short Film Special Jury Award, International: Directing
AliEN0089 (Chile), Valeria Hofmann
Short Film Special Jury Award, U.S: Directing
The Vacation, Jarreau Carrillo