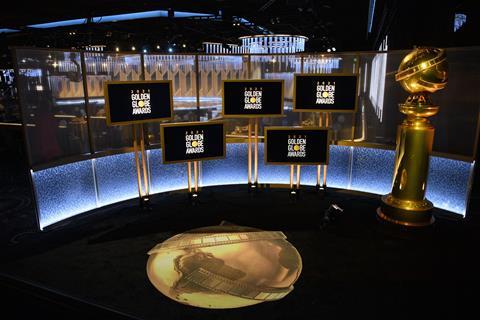 NBC's bombshell decision to drop the 2022 Golden Globes ceremony broadcast has got Hollywood asking to what extent this could disrupt the upcoming awards season.
The early consensus appears to be not much, at least according to a handful of industry insiders who spoke to Screen on condition of anonymity.
It remains unclear whether the Hollywood Foreign Press Association (HFPA) – the 90-or-so international journalists who vote on the Golden Globes – will actively engage in the next awards cycle or sit it out.
Not banking the reported $60m broadcast rights fee it gets from NBC will bring a lot of pain, however for now at least, the HFPA has other fish to fry.
It is scrambling to implement structural reforms in light of an LA Times exposé alleging unethical conduct and a lack of diversity among membership, and says it will have 20 new members and a new board in place by August, with an overall 50% rise in membership scheduled within 18 months.
The proposed changes cannot come fast enough for Hollywood and until they do, power players including streamers, a coalition of prominent publicists, as well as advocacy groups and stars are distancing themselves. NBC has not cut ties and said it hopes to broadcast the show in early 2023 if the HFPA implements changes.
"Is this the awards show we need?"
Amid a fast-moving news cycle, sources seemed prepared for a season without the Golden Globes.
"I don't think it causes any headaches," said one. "The personal publicists who have spoken out have already taken their stance – nobody's standing around wondering if the HFPA will sort this out during awards season."
They continued, "I don't doubt a robust awards season goes ahead without the HFPA. I don't see us missing them if they're not there; they're not as important as some people have made them out to be. It's become more of a promotional thing."
Another experienced insider opined, "It's not a big deal… Golden Globe nominations don't translate into Oscar nominations. What they do is call attention to whoever is nominated and mostly they call attention to the winners."
One veteran said, "People are asking is this the awards show we need? It's a great promotional vehicle. We have to look at the big picture. In the next year and a half, what are these awards shows going to look like and what impact does it have on the Oscars?"
If the Globes is absent this upcoming season, the prevailing sentiment is that another show or two will fill the vacuum; the Critics Choice Awards and Screen Actors Guild Awards appear to be early contenders. Like the Golden Globes, both groups honour film and TV.
Another scenario floated in a press report on Monday is to combine the US guilds shows into one all-encompassing event dedicated to honouring the best in acting, writing, directing, and producing.
Everyone who spoke to Screen agreed the notion of an awards show, as a heavyweight fundraiser for their organisations, is an issue that needs to be addressed.
Viewership of the 2021 Golden Globes tumbled 62% to an all-time low of an average audience of 6.9m viewers. (The recent Oscar telecast also experienced a nadir in terms of viewers, attracting around 10m.)
NBC certainly knows this. "Maybe it's a hand grenade way to renegotiate your TV deal," said one executive of the network's announcement on Monday.
But the insiders were clear on one thing: "The Globes go away and something else moves into its place."