Wallace and Gromit creator Nick Park directing prehistoric animated adventure.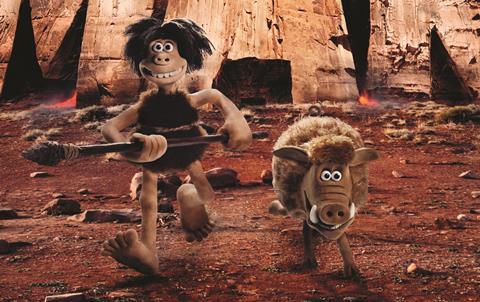 Aardman and Studiocanal have revealed the release dates for upcoming animated adventure Early Man, directed by Nick Park. The dates are:
UK: January 26 2018
France: January 31 2018
Germany: March 29 2018
Australia/NZ: March 29 2018
Studiocanal is co-financing and will distribute in its own territories, the UK, France, Germany, Australia and New Zealand, selling worldwide. The BFI (British Film Institute) is also a partner on the film.
Early Man continues the production partnership with Aardman and Studiocanal following the success of Shaun the Sheep Movie, directed by Mark Burton and Richard Starzak, and nominated for the Animated Film Bafta.
Early Man marks Park's first feature film since Oscar-winning animation Wallace And Gromit: The Curse Of The Were-Rabbit in 2005.
Supported by screenwriters Mark Burton and John O'Farrell, the new film is set at the dawn of time, when dinosaurs and woolly mammoths roamed the earth, telling the story of how one plucky caveman unites his tribe against a mighty enemy and saves the day.
At last year's Cannes Film Festival, Early Man was pre-sold all around the world on the basis of a few minutes of footage.
The partnership sees French powerhouse StudioCanal continue on its lucrative foray into high-end family-oriented fare, which has included the global smash Paddington and Ben Stassen's upcoming 3D feature Robinson Crusoe.