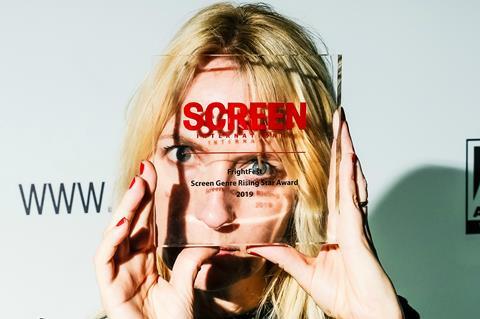 Abigail Blackmore, writer-director of the comedy horror film Tales From The Lodge, has won the Screen FrightFest Genre Rising Star award for 2019.
Blackmore received the award at the Cineworld Leicester Square on Monday August 26, as part of the closing day of FrightFest.
Her debut feature Tales From The Lodge is set in an isolated English woodland dwelling, where five old university friends meet to scatter their drowned companion's ashes.
Screen's contributing editor Nikki Baughan, who judged the five-strong shortlisted, praised Blackmore as a filmmaker who "not only showcases vision and flair behind the camera, and confidence in working with a terrific ensemble cast, but also impresses with a screenplay that skilfully blends drama, dark comedy, outlandish horror and a deep appreciation of the genre."
The other shortlisted names were Fredi 'Kruga' Nwaka, writer-director of Are We Dead Yet?; Jack McHenry, writer-director of Here Comes Hell; Staten Cousins Roe, writer-director of A Serial Killer's Guide To Life; and Rebecca Rogers, star of Stalked.

Tales From The Lodge is produced by the UK's Newcastle upon Tyne-based Hook Pictures, US agency XYZ Films has worldwide sales rights. It launched at SXSW in the US in March this year.
Established in 2016, previous winners of the Genre Rising Star award include Alice Lowe for Prevenge, Danny Morgan for Double Date, and last year's winner Ella Hunt, star of Anna & The Apocalypse.