Richard Curtis' time-travel romance wins European Film award; other prizes go to films by Kore-eda, Tavernier, Teplitzky and Vallee.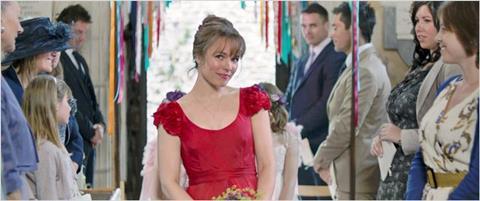 The 61st San Sebastian Film Festival has awarded Richard Curtis comedy About Time the prize for European Film.
The film stars Domnhall Gleeson as a young man who discovers he can travel in time and uses his newfound power to get a girlfriend, played by Rachel McAdams. It has played at film festivals in Edinburgh, Locarno and Rio, and is heading for New York and the Hamptons.
San Sebastian, which draws to a close today, also handed out a raft of other awards.
The Wuaki.TV Audience Award went to Hirokazu Kore-eda's Like Father, Like Son, which won the Jury Award at Cannes in May.
Jim Taihuttu's Dutch drama Wolf picked up the Youth Award.
The FIPRESCI Award went to Bertrand Tavernier's political satire Quai d'Orsay, based on a French comic of the same name by Lanzac and Blain.
Jonathan Teplitzky's The Railway Man, starring Colin Firth and Nicole Kidman, won the Signis Award.
Special mentions were given to Mariana Rondón's Venezuelan feature, Bad Hair (Pelo Malo), and October November, from Austrian director Götz Spielmann.
François Dupeyron's My Soul Healed by You picked up the Guipuzcoan Blood-Donors' Association Corresponding To The Solidarity Award.
Dallas Buyers Club, starring Matthew McConaughey in the true story of a Texan who sought out alternative medicine after contracting HIV, won the Sebastiane 2013 award.
Gehitu, the LGTB association of the Basque Country, granted the award to the film directed by Jean-Marc Vallée.
The jury said: "Dallas Buyer's Club underlines the historical debt that society still holds with the first affected by HIV.
"This is probably the first film that highlights the fact that any kind of gay and transgender people, got closer, desperate and segregated by the vast majority of society, in the search for their own survival, going ahead of doctors and pharmaceutical industry's interests.
"The main character of the film, Ron Woodroof, a heterosexual homophobic and sexist, changes his negative view of homosexuality, when he experiences in first person social rejection and ignorance".
Rondón's Bad Hair secured a second special mention. The film centres on a young boy's obsession with straightening his hair and the homophobic panic it generates in his mother.
The Jury also gave an Honorary Mention to the film Pelo Malo, directed by Mariana Rondón and screened in the Official Competition of the Festival. This movie shows the violent rejection and incomprehension of a mother for her child, for fear that her child is not heterosexual.