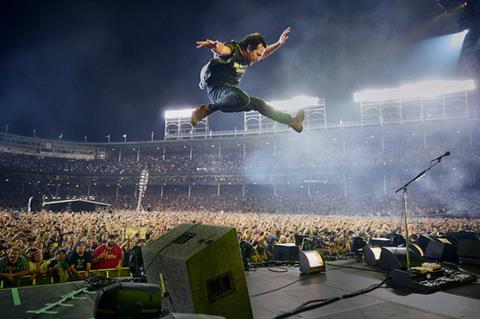 Abramorama founder and CEO Richard Abramowitz and his team are in Toronto scouring the ground for acquisitions as they continue to grow their global distribution business.
Abramowitz has kept quiet about his international expansion until now, but is encouraged by the numbers on the releases, mostly music-related films that he and his team book directly with exhibitors, as they have done for years in North America.
K-12, a fantasy film written, directed by and starring American pop star Melanie Martinez, grossed $303,230 through Abramorama when it opened last week in 32 countries.
Abramorama said it has performed well internationally. Comprehensive numbers were unavailable at time of writing, however in Australia, K-12 debuted as the fourth highest grossing film of the week in 19 locations for a site average of $2,658, and debuted as the seventh highest in Brazil and Argentina. In the UK it was Vue Entertainment's highest grossing film across the circuit in its first week, grossing £42,358 ($52,028) to outpace Once Upon A Time in Hollywood and Angel Has Fallen.
Their first international release was on the concert film Pearl Jam: Let's Play Two in September 2017, which ended up grossing roughly half of its global box office from the international arena.
"It was our first foray into a global release," said Abramowitz. "It was unusually successful by any standards in terms of how it allowed the band to continue their intimate relationship with their fans when they weren't touring. One of the things we were mindful of was not oversaturating these markets with screenings. Our prime objective was to make sure these movies are handled respectfully and responsibly: in the same way Pearl Jam don't play to empty houses, nor can we. It's the same thing with all the artists we work with – The Beatles, Hendrix – we make it convenient but we don't make it omnipresent."
Evan Saxon, Abramorama's head of West Coast acquisitions and business development who oversees international theatrical distribution and marketing, added: "We'll get information from the band on where their big pockets of strength are and we will present the film directly to cinemas.
"We book directly with everybody and the cinemas and myself and the team will look at the best locations for the film. A lot of times with a big name people will want to place the film everywhere, but we have to be careful as Richard said. We make sure the film is subtitled and localise it."
Pearl Jam: Let's Play Two was strong throughout Latin America and Australia, where on one day it was the third highest-grossing release of the week among Hollywood and local films.
Abramorama has also distributed The Public Image Is Rotten in 11 countries; Jimi Hendrix: Electric Church in the UK and Latin America; Above & Beyond Acoustic: Giving Up The Day Job in five countries; and Bruce McMouse in four.
The company typically books a title for one night in a theatre, either deploying a day-and-date in multiples theatres, or adopting a staggered pattern across all the venues. Playing one night in a venue creates as Abramowitz put it "a sense of urgency, more of an event and spectacle if it's only available one day." If a one-night show sells out they may add another show. Abramorama also orchestrates hybrid releases that combine week-long runs in substantial markets, or if required for Academy Award and other awards-qualifying runs. They seldom do hybrid releases internationally.
"We think of the films we get involved with as tribal – a defined and dedicated audience who are close to the material," he continued. "On January 27 this year it was International Holocaust Remembrance Day. Who Will Write Our History was released in 55 countries in 12 languages in 350 locations. It was about the underground movement in the Warsaw Ghetto who documented the Nazi atrocities and buried the documents underground in three steel cases. They found two and that formed the basis of the film. We screened it near Auschwitz and there were discussions after the screening and Facebook Live events."
Currently Abramorama is distributing a ZZ Top film in tandem with the band's 50th anniversary tour. "The ZZ Top film could stay in theatres around the world for two and a half months as the tour continues," noted Saxon. "We're following the band. They play the trailer during the intermission before they come on stage…A lot of our films will play anywhere from four to seven days after the tour date. It will play one night in one market and that will start the chatter."