First image released of Simon Pegg in the comedy that reunites the voices of the Monty Python team on film.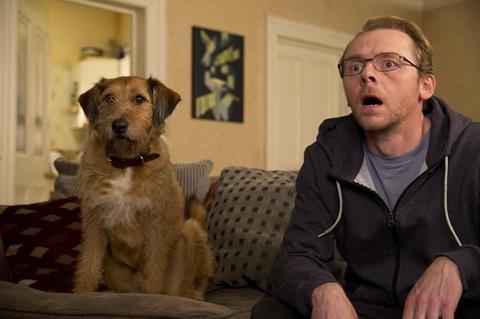 Shooting has wrapped in London on Absolutely Anything, the new comedy starring Simon Pegg from Monty Python's Terry Jones.
The story follows a disillusioned school teacher (Pegg) who suddenly finds he has the ability to do anything he wants, a challenge bestowed upon him by a group of power-crazed aliens watching him from space.
The aliens will be voiced by Jones himself alongside Monty Python co-stars John Cleese, Terry Gilliam, Michael Palin and Eric Idle.
The cast also includes Kate Beckinsale, US comedian Rob Riggle and Robin Williams, who voices Pegg's canine companion, in Jones' first film as director in 18 years.
Finishing the shoot, Jones said: "Kate, Simon and Rob breathed such life into the characters. I couldn't have imagined anyone else playing those parts"
The script was co-written by Jones and Gavin Scott. GFM are selling, marketing and financing the film.
Lionsgate will release the film in the UK between April and June 2015.
The film's supporting cast includes Sanjeev Bhaskar, Meera Syal, Eddie Izzard and Joanna Lumley.
Producers are Ben Timlett and Bill Jones at Bill & Ben Productions. Mike Medavoy, who previously worked with Terry Jones on Life of Brian and Eric the Viking, will serve as executive producer with Chris Chesser.
Triple Oscar-winner Jim Acheson designed the costumes, sets and aliens.
Previous deals for the film have been struck in German-speaking territories (Telepool, Senator), Scandinavia (Svenske), Iceland (Myndform), Australasia (Icon), CIS (Exponeta), Middle East (ECS), Poland (Cinephil/Monolith), Bulgaria (A Plus), former Yugolslavia (VTI), Thailand (Sahamongkofilm), Singapore (Shaw Renters), Malaysia (Rainfilm) and world airlines (EIM).