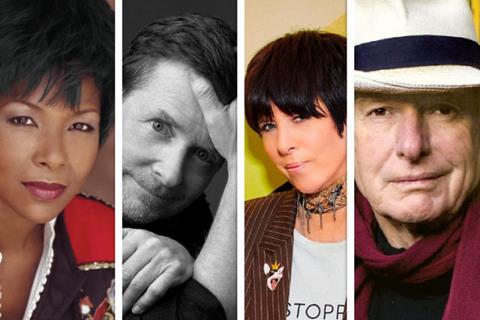 Euzhan Palcy, Diane Warren and Peter Weir will receive honourary Oscars and Michael J. Fox the Jean Hersholt Humanitarian Award at the Academy's 13th Governors Awards on November 19 in Los Angeles.
The four Oscar statuettes will recognise "four individuals who have made indelible contributions to cinema and the world at large", said Academy president David Rubin.
"Michael J. Fox's tireless advocacy of research on Parkinson's disease alongside his boundless optimism exemplifies the impact of one person in changing the future for millions," Rubin continued. "Euzhan Palcy is a pioneering filmmaker whose groundbreaking significance in international cinema is cemented in film history.
"Diane Warren's music and lyrics have magnified the emotional impact of countless motion pictures and inspired generations of musical artists. Peter Weir is a director of consummate skill and artistry whose work reminds us of the power of film to reveal the full range of human experience."
Fox rose to fame as Alex P. Keaton on sitcom Family Ties and went on to star in the Back To The Future franchise, The Secret Of My Success, Casualties Of War, Doc Hollywood and The American President. TV credits include Spin City. He has won five Emmys, four Golden Globes, one Grammy and two Screen Actors Guild awards. In 2000 he launched the Michael J. Fox Foundation for Parkinson's Research and is the subject of an upcoming documentary from Davis Guggenheim.
Palcy is a writer, director and producer born in Martinique in the French West Indies. Her first feature Sugar Cane Alley won the Silver Lion at 1983 Venice Film Festival, a first for a Black director. It went on to win a César Award for best first work, the first César won by a woman director and by a Black filmmaker. She became the first Black woman to direct a film for a major Hollywood studio on A Dry White Season in 1989, garnering Marlon Brando's last Oscar nomination. Her films include Siméon.
Warren is the prolific contemporary songwriter who has written original songs for more than 100 films and has earned 13 Oscar nominations in the original song category for the likes of 'Nothing's Gonna Stop Us Now', 'How Do I Live' and 'Stand Up For Something'. Among her collaborators are Lady Gaga, Beyoncé, Cher, Celine Dion, Whitney Houston, Jennifer Hudson and John Legend.
Australian New Wave pioneer Weir broke out with Picnic At Hanging Rock and The Last Wave and earned Oscar nominations for directing Witness, Dead Poets Society, The Truman Show and Master and Commander. He earned a writing nod for Green Card and his notable films include The Year Of Living Dangerously, Gallipoli and The Mosquito Coast.