This year's AFM had no single standout title, but a selection of high-profile projects and star appearances sparked buyer interest.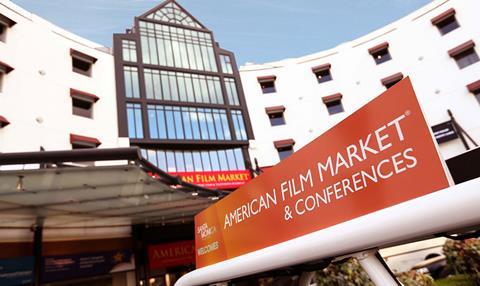 In an increasingly polarised independent space besieged by a talent exodus to TV and the might of digital platforms and studio acquisitions teams, the consensus was there was no single must-have title at the 2016 American Film Market (AFM). So it was up to a handful of appealing projects and star appearances to inject life into the market.
As Screen International revealed, Sacha Baron Cohen showed up at the Annapurna International offices to talk up his $20-30m Danish comedy remake Klown. Viola Davis trumpeted GFM Films' The Personal History Of Rachel DuPree, Margot Robbie met Sierra/Affinity buyers for I, Tonya, and Mark Wahlberg took part in a TWC-Dimension presentation with writer-director Damian Szifron for The Six Billion Dollar Man.
COO David Glasser expects to begin pre-sales in December on Szifron's Wild Tales follow-up, and orchestrated a packed session that included horror project Polaroid and Robert De Niro comedy War With Grandpa.
Tom Hanks's $50m Second World War submarine thriller Greyhound was a popular title for FilmNation, while Lionsgate International made a splash with Sicario follow-up Soldado, Saw: Legacy and Horse Soldiers, as did Mister Smith for Wish Upon.
SND's Mel Gibson-starrer Every Other Weekend, FilmNation's Wildlife, Studiocanal's animations Early Man and Shaun The Sheep 2 and Sierra/Affinity's Villain were among those to tempt buyers while eOne stole a march on another hot title when it swooped yesterday on rights to HanWay's Liam Neeson drama The Trainer.
Independent sales powerhouses such as these and others around the world have known for years the value in aligning themselves with a capital base and a production capability. Now, everybody who wants to survive is keen to do the same as the migration of talent to TV and the voracious appetite and intimidating spending power of Netflix and increasingly Amazon Studios has turned the business on its head.
The Exchange has closed a revolving line of credit with Pacific Mercantile Bank to further ramp up its financing and production activities and move towards higher prestige content. "The company is growing organically and that's what makes this sustainable," said CEO Brian O'Shea, who has enjoyed a strong response to third-party sales title The Lady And The Panda starring Rebecca Ferguson, which is indicative of the type of product he wants to move towards.
"Buyers are being much more selective and we all need to try harder to present the kinds of films that will work in the international marketplace," said Mimi Steinbauer, president and CEO of Radiant Films International. Steinbauer's buyers responded well to titles like Ashes In The Snow with Bel Powley, The Changeover with Timothy Spall and the upcoming thriller Misfortune from director Lucky McKee.
China remained high on the agenda with increased attendance from delegates and a strong presence at the AFM industry programming. "There is a continued growth of non-English language films and non-English-language sellers coming into the market," said AFM managing director Jonathan Wolf. "This split was 70/30 ten years ago in favour of English-language content and companies. Now it's 60/40 and at some point we will hit an equal balance. That's the direction we are heading because it's getting more challenging in the US."