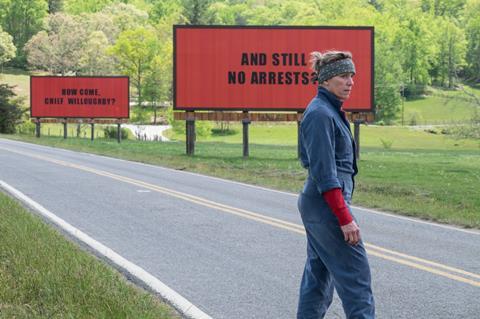 Currently, North Carolina can celebrate the Oscar wins for Three Billboards Outside Ebbing, Missouri (despite the title, it was shot in Western North Carolina) and the forthcoming theatrical release of Sundance hit American Animals, a Kentucky-set story directed by British director Bart Layton that was mostly shot near Charlotte, including at Davidson College.
These two films coincidentally both have British production companies – Blueprint Pictures and Raw, respectively, and Film4 backs both features. They are a clear signal to both US and international producers that NC is open for filming, after a confusing few years.
After a golden era welcoming shoots like the first Hunger Games film, TV show Homeland, and Marvel's Iron Man 3, things looked suddenly disastrous in 2013 when the system moved from that popular refundable tax credits with no annual cap (worth $60m in 2012) to a system with just a one-time grant of $10m. Thankfully, that situation was improved by launching the North Carolina Film and Entertainment Grants.
Guy Gaster, NC's Film Comissioner, explains, that in 2014 "a group of bipartisan legislators said, 'Wait this isn't going to sustain us' and they fought for additional funding on an annual basis. Where we are today is $31m per fiscal year, recurring in the state budget annually." More good news came in late 2017, when any sunset date was removed.
The grants are a 25% rebate of qualifying in-state spend (without having to be resold/discounted).
The minimum spend for features is $5m, and the rebate is capped at $5m for features. That can mean some smaller indies or larger studio films wouldn't be a great fit, but for films budgeted in the middle, NC can offer good value. "For American Animals and Three Billboards, they were a good fit because they are under $20m budgets," Gaster explained, speaking to Screen at the RiverRun International Film Festival in Winston-Salem, which opened with American Animals.
For TV shows, the minimum spend is $1m per episode and the rebate has a cap of $9m per season – "that's intentional because they are longer term," Gaster said. Recent TV projects shot in the state include TNT's Good Behavior starring Michelle Dockery, Six for the History Channel and Fox's Shots Fired.
After the scare in 2013, Gaster has had to re-educate the industry that NC is still a viable shooting destination. "Three Billboards reminded folks in the industry that NC was open for business," he says of the film, shot in the mountain town of Sylva, near Asheville.
Another recent NC shoot was for Netflix's The Legacy of a Whitetail Deer Hunter, Jody Hill's comedy that premiered at SXSW.
The next feature to shoot will be LD Entertainment's Words on Bathroom Walls, a coming-of-age story that will shoot from May in Wilmington. Thor Freudenthal directs the story, adapted from Julia Walton's bestselling novel, about a high school student with paranoid schizophrenia.
Wilmington, on the East Coast, has been a hotbed of NC production for decades – Dino De Laurentiis produced Firestarter there in 1982. Now the studio property that he started has evolved into the 10-stage EUE/Screen Gems, America's second-largest studio east of California.
There are more than 5,000 trained crew members across NC.
In terms of locations, the state can offer beaches, mountains, cities and more rural towns. "What we really do well here is portray Anywhere, USA," Gaster says.
The 25 percent rebate is obviously not the highest percentage credit (Louisiana has up to 40% for productions meeting specific criteria), has a lower cap than other states (California for example has $330m annually). Yet more than a dozen US states have no incentives.
NC was one of the first US states to launch a film office, back in 1980, and notable films shot in the state include Dirty Dancing, The Last of the Mohicans, The Color Purple, Blue Velvet and Days of Thunder, plus TV shows ranging from Dawson's Creek and One Tree Hill to Under The Dome.