The Swedish Film Institute has backed nineteen projects in its latest round of funding.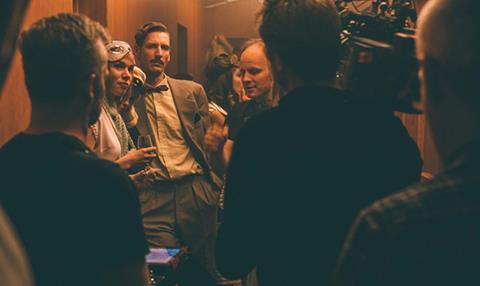 Swedish director Sanna Lenken, who won Berlin's Crystal Bear in 2015 with My Skinny Sister, is now making a 30-minute short Night Child (Nattbarn), based on a graphic novel by Hanna Gustafsson.
The story is about 14-year-old girl Iggy "who lives a parallel online life to avoid the everyday tedium. A story about identity, sexuality, borderlands and friendship."
The film is one of several new productions getting backing from the Swedish Film Institute. Others include Dome Karukoski's anticipated new Tom Of Finland biopic [pictured] and Agnieszka Holland's Polish drama Game Count.
Other projects backed, listed from highest investments, are:
Becoming Zlatan, wr/dirs Fredrik Gertten, Magnus Gertten; prods Margarete Jangård, Lennart Ström. Documentary about charismatic footballer Zlatan Ibrahimović. $246,000 (2m SEK)
Tom Of Finland, dir Dome Karukoski, wr Aleksi Bardy, prods Gunnar Carlsson, Emma Åkesdotter Ronge. Drama about the homosexual icon and acclaimed artist. $246,000 (2m SEK)
Top 3 (Topp 3), dir Sofie Edvardsson, wr/prod Simon Österhof. Adult animation about love and dreams of the future in the hinterlands of northern Sweden. $189,200 (1.5m SEK)
Darling, dir Birgitte Stærmose, wr Kim Fupz Aakeson, prods Lizette Jonjic, Madeleine Ekman. This Zentropa Sweden drama is about a ballerina and her choreographer, played by Danica Curcic and Gustav Skarsgård. $123,000 (1m SEK)
The Nile Hilton Incident, wr/dir Tarik Saleh, prod Kristina Aberg. The thriller was previously backed by SFI with funding now expanded to $123,000 (SEK 1m).
Night Child (Nattbarn), wr/dir Sanna Lenken, prod Annika Rogell. Based on a graphic novel by Hanna Gustafsson, this is a film about 14-year-old Iggy, a girl who lives a parallel online life. $126,000 (1m SEK)
Game Count, dir Agnieszka Holland, wr Olga Tokarczuk, prod Fredrik Zander. Drama set in the remote Polish countryside about a dog-obsessed woman who becomes a murder suspect. $98,300 (800,000 SEK)
The Tower, wr/dir Mats Grorud, prod Annika Hellström. Family puppet and 2D animation about an 11-year-old girl living in a Palestinian refugee camp. $98,300 (800,000 SEK)
From Next Door Spy, wr/dir Karla von Bengtson, prods Lina Jonsson, Rodrigo Villalobos. Children's animation about a girl who dreams of becoming a master detective. $73,700 (600,000 SEK)
Miranda - inte en av er,wr/dir/prod Mats Ågren. Documentary about a 15-year-old girl who gets involved with the Swedish Democrats but has a conflict with party leaders. $73,700 (600,000 SEK)
The Taxi Club (Taxiklubben), dir Johan Palmgren, wrs Alexandra Litén, Johan Palmgren, prod Lisa Wahlbom. Documentary about one man's struggle against Sweden's biggest taxi firm. $49,150 (400,000 SEK)
Rikard, wr/dir/prod Julia Stanislawska. Documentary portrait of musician Rikard Wolff. $49,000 (400,000 SEK)
Bobbi Jene, wr/dir Elvira Lind, prod Mathilde Dedye. Documentary about an American woman, Bobbi Jene, who leaves a prestigious Tel Aviv dance troupe to create her own brutally personal art. $46,100 (375,000 SEK)
Notes on Blindness, wr/dirs. Peter Middleton, James Spinney, prods Mike Brett, Jo-Jo Ellison, Steve Jamison, Peter Middleton, James Spinney, Alex Usborne. Groundbreaking documentary based on audio diaries of theologian John Hull, as he loses his sight. $43,000 (350,000 SEK)
Gråbo - kortfilmen, wr/dir Malin Skjold, prod Johan Nyberg, Documentary about a housing development outside of Visby. $43,000 (350,000 SEK)
The Night, wr/dir Steffan Strandberg, prods Juan Pablo Libossart, Erik Gandini. The story of director Stefan Strandberg's own childhood, growing up with an alcoholic mother. The story is told through the eyes of an 11-year-old boy and is a combination of animation and 8mm film, shot by his father. $39,300 (320,000 SEK)
Fragment av ett liv i fyra scener, dir/wr David Aronowitsch, prods Annika Rogell, Aronowitsch. Drama about a Stockholm boy who meets his older cousin unexpectedly. $33,807 (275,000 SEK)
Hear Here, wr/dir/prod Mårten Nilsson. A music/dance project about an experimental filmmaker and headstrong sound landscape creators on an "international city odyssey." $21,500 (175,000 SEK)
Taxi Tiblisi, wr/dir/prod Johanna Bernhardson. Documentary about a taxi conversation in Tbilisi that covers Europe, immigration and comparing modern capitalism to old Soviet dictatorship. $6,150 (50,000 SEK)