The British actor-director revealed stories from Die Hard, Harry Potter, Robin Hood and his latest film, A Little Chaos.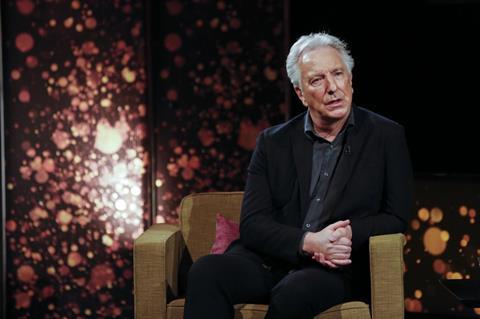 Alan Rickman entertained a select audience in London last night with stories from nearly 30 years in movies.
Speaking on stage at the latest BAFTA: A Life In Pictures event, the actor-director revealed how his first exposure to film was at school with titles like Ealing comedy The Titfield Thunderbolt, before going to art school and encountering his first major influences: Antonioni and Fellini.
"But I don't know that I thought this would be part of my life," he recalled. "To be perfectly honest, having a film career at all is a bit of a surprise."
After going to RADA at 25, Rickman established himself on stage and TV, and didn't star in his first film until his early 40s. That film just happened to be the blockbuster action hit Die Hard.
He won the role on the back of his stage success in Les Liasons Dangereuses, which played in the West End and on Broadway.
"Somebody told me, you've got about two weeks of people's attention," said Rickman. "I went to LA and did the round of meetings. Two days after I got there, I was offered Die Hard. I'd never made a film before – but I was extremely cheap."
But the actor revealed that he nearly turned down the role of the now iconic villain, Hans Gruber: "I read it and said, "What the hell is this? I'm not doing an action movie." But people said, "Alan, you don't understand, this doesn't happen, you've only been in LA two days and you've been asked to do this film.'"
He also recalled how his theatre training helped shape the character: "I was being fitted for all of this terrorist gear in the early days of the putting of the film together. And I said, 'Why would I be wearing this when I've got all these huge hulks who are going to do all the dirty work?'
"So I was just thinking you know, if I was wearing a suit and not all of this terrorist gear, then maybe there could be a scene where I put on an American accent and he [the hero John McClane] thinks I'm one of the hostages."
"I left this note on Joel Silver's table saying, 'Please think about this, I think it might be interesting,' and then I went back to England. And I kind of got the Joel Silver, "Get the hell out of here, you'll wear what you're told," and I thought, "Okay, fine."
"Then I came back and they handed me the new script – so, you know, it just pays to occasionally use a little bit of theatre training when you're doing a movie. What did he have for breakfast? Where did he come from? And you know, I'm going to look ridiculous in those costumes."
Rickman also recalled how his dangerous fall from the building at the end of the film, which he trained for by falling more than 30ft into an airbag, was the very last shot… "just in case."
Robin Hood: Prince of Thieves
Thinking back to his hilarious performance as the Sheriff of Nottingham in Robin Hood: Prince of Thieves (1991), Rickman said: "Thank God for panto training in rep."
He recalled how he worked with the late playwright Peter Barnes on the script.
"I used to go and have lunch with him in the Pizza Express in Leicester Square," Rickman told the audience. "I knew I was going to do Robin Hood and said, "Will you have a look at this script because it's terrible, and I need some good lines."
"So he did… and said, "Well, you know here, here where it says you're coming down the corridor and you're wiping the scar off of the statue, you should have a wench in a doorway, and then you should say, 'You, my room, 10.30,' and then turn to the other wench and say, 'You, 10.45'."
He added that comedian Ruby Wax added the punchline: "And bring a friend."
Mary Elizabeth Mastrantonio who played Maid Marion in the film, would come over to run scenes with Rickman and would say "I want to be in his film," he recalled.
Harry Potter
Rickman also spoke of his 10 years spent playing Professor Severus Snape in the Harry Potter series of films.
"People think I knew a lot and I didn't," he said about being asked whether he knew of his fate in the series.
"When I was asked to do it there were only three books written so I was learning with the readers every time there was a new book. I was just going, "Oh, I'm still in it."
Rickman revealed his attempts to elicit details from author JK Rowling, and her reluctance to give away secrets: "She gave me just one piece of information that let me know I had to try to drive down two roads at the same time until all the facts emerged. So I knew there was ambiguity."
He also highlighted the changes involved with spreading a series of films over a decade: "Apart from anything else, three leading actors start out at 12 years old, and then they're 22.
"Meanwhile, CGI is growing up along with you. So at the beginning of it all we used to go off on location. Forget that - by the end of it, we were on a pile of old grass at the back of Leavesden Studios with a big football stadium of lights.
"I will never forget on the last film, at three o'clock in the morning Michael Gambon staggering up this piece of old grass and looking at me and saying, "Am I dead in this scene?"
A Little Chaos
Rickman directed his first film, The Winter Guest, in 1997. The film starred Emma Thompson, who he had previously starred opposite in Sense and Sensibility (1995) and would later be reunited with in Love Actually (2003).
His second film as director, A Little Chaos, also reunites him with another Sense and Sensibility co-star, Kate Winslet.
The period comedy-drama, which debuted at the Toronto International Film Festival and opens in the UK this weekend, has Winslet play a landscapr artist who finds work in the garden of King Louis XIV's palace at Versailles. Rickman plays the King.
"Kate is one of the greatest listeners," he said of Winlet's acting talent. "You'll sit in an editing room thanking God for when you want to watch a character learn about herself, which is what she has to do in this film, figure out who she is."
As for directing himself, Rickman recalled some advice from his friend Ralph Fiennes who said: "The danger of an actor directing themselves is you're embarrassed about going for another take on you," and I could see the sense in that."
Eye In The Sky
Rickman will next be seen opposite Helen Mirren and Aaron Paul in drone thriller Eye In The Sky, set in the world of remotely piloted aircraft warfare.
"It terribly current… but is already being overtaken in a way by real events," he added.
"It's about the moral dilemmas that governments face in the use of drones against terrorists. We shot in South Africa but all of my scenes as the head of the British Army are set in Whitehall in an office with a huge screen on the wall.
"Hopefully it's a film that just throws it straight at the audience and says, what do you think?"