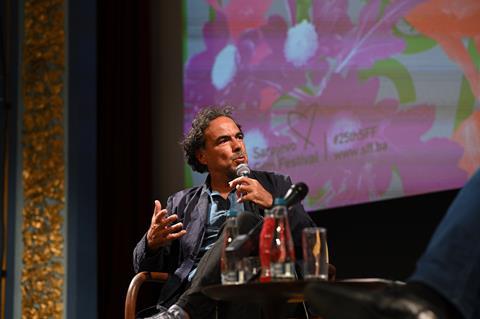 Oscar-winning Mexican filmmaker Alejandro González Iñárritu has lamented 'the dictatorship of the algorithm' in the selection of content for streaming platforms.
The Mexican director made his comments in a masterclass at Sarajevo Film Festival on Sunday August 18, talking about his career and giving his assessment of the film industry.
Speaking to Screen after the event, Iñárritu said Netflix fails to make the most of its content by not giving it an appropriate release.
"Netflix should understand some of their films should be released in cinemas," he said. "That would be a benefit for the film and for them. They would not lose people who watch TV. If you see a great film in the cinema and then two or three weeks later you see it on TV, you watch it again."
He also floated the idea of a 'Netflix Plus' platform (unrelated to the upcoming Disney online platform Disney+), which would provide theatrical releases for suitable Netflix titles.
"They don't have to screen them all, but they could have a Netflix Plus," he suggested. "The ones that deserve screening – that would make them stronger."
Iñárritu, whose last film, 2015's The Revenant, won three Oscars including his second-consecutive best director trophy, said he would work with a streaming platform "if I found something to say in the format of TV."
"I confess, I'm not a TV guy," he admitted. "I'm interested in it, but haven't had the chance to think about it. Film is something I understand."
He confirmed he has no plans to resurrect a previous episodic project, the 10-part Midwest-set family drama The One Percent, which was dropped by US broadcaster Starz in March 2017.
Regarding future work, he said he has been "working on a couple of projects for the last three or four years", and that he is undecided between two but will shoot one of them in summer 2020.
Attention span
Without linking it explicitly to the presence of streaming services, the director was particularly damning about the demand for constant content in contemporary society.
"There's an impatience now to be entertained – to be fed with plot in a fast way," he said. "Everything has to be clear, understandable, global, like a Coca-Cola commercial. It has to please everybody because it's a world product, and you cannot deal with that fucking thing."
He warned of a negative effect on the creativity of future generations. "The possibilities to experiment and explore are gone because TV demands guaranteed globality that everybody understands."
"That is changing the stamina and motivations of young writers and filmmakers. Cinema – the inspiration, that's a jewel – it's probably going to disappear."
Following the mass shooting in El Paso in the US on August 3 in which eight of the 22 victims were Mexican, Iñárritu also condemned the influence of US president Donald Trump.
"Words trigger actions," he said. "Every time you express something you have to be accountable. You have to know that every word has a big weight, and you can kill a person with words."
Iñárritu received the honorary Heart of Sarajevo award for his contribution to the film industry at the festival's opening ceremony on August 16 alongside fellow filmmaker Pawel Pawlikowski.
French actor Isabelle Huppert will become the next recipient of the award today (August 19) ahead of a screening of Ladj Ly's Cannes title Les Misérables.