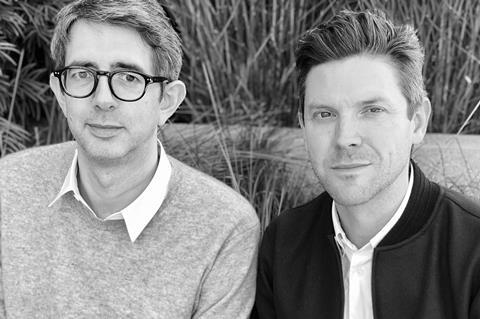 Alexei Boltho and Rhodri Thomas, the former partners at UK production outfit The Ink Factory whose credits include The Night Manager, have officially launched their new production company RAY Pictures.
The company has backing from US sales and packaging outfit Endeavor Content and private asset management firm MediaNet Partners. It will be based in London and Los Angeles.
RAY Pictures will develop, finance and produce work across multiple platforms, with a focus on premium scripted drama and feature films.
Boltho and Thomas are launching with a debut slate that includes Aquarium, adapted from David Vann's book by Marnie Dickens (Gold Digger), to be directed by debut feature director Lauren Caris Cohan and starring Gugu Mbatha-Raw. Further casting is underway.
The novel follows a 12-year-old who lives alone with her mother -a docker at the local container port - in subsidized housing next to an airport in Seattle. Each day, while she waits to be picked up after school, she visits the local aquarium to study the fish.
Also on the slate is a feature adaptation of John Boyne's novel, A Ladder To The Sky, and a Tokyo-set television series, Occupied City, written by Ben Hervey (Taboo) from the novel by David Peace.
Rhodri Thomas was most recently president of production at The Ink Factory, where he was co-executive producer of The Night Manager and produced Ang Lee's Billy Lynn's Long Halftime Walk. He is also the executive producer of Fighting With My Family, which is premiereing at Sundance. Thomas was previously at The Weinstein Company, where he spearheaded the acquisition from script of The King's Speech, and was also at BBC Films, where he first worked with Alexei Boltho.
Boltho was chief commercial officer at The Ink Factory. His credits include The Night Manager, Billy Lynn's Long Halftime Walk, Fighting with my Family, Message From The King, Our Kind Of Traitor and A Most Wanted Man. He also played a role in the initial equity fundraise which launched The Ink Factory. He was previously at Paramount Pictures International, where he oversaw international co-production and acquisitions, including Spanish box office smash Cell 211 which became Paramount's biggest ever release in the territory and won seven Goya awards.
"We love bold material and believe that, now more than ever, popular entertainment needs to be both provocative and relevant to stand out," commented Thomas and Boltho. The pair highlighted the "reach and resources" of Endeavor and MediaNet as key to growing the company's team and slate.
"Alexei and Rhodri are the next generation of great British producers. They have an unrelenting passion to develop and curate series and films that travel," said Endeavor Content co-presidents Chris Rice and Graham Taylor.