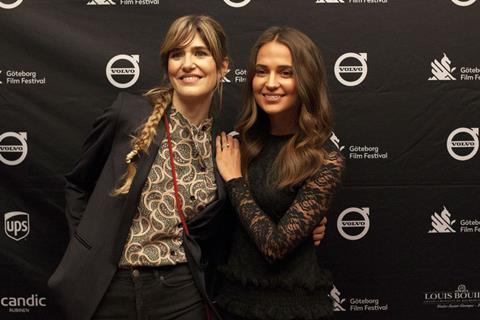 Alicia Vikander returned to her hometown of Goteborg to accept the Nordic Honorary Dragon Award on the opening night of the Göteborg Film Festival yesterday (Jan 26).
The Swedish actress of The Danish Girl and the upcoming Tomb Raider reboot used the platform to talk about women in film.
She spoke of her experience making Swedish feature films "all with strong women", including two with director Lisa Langseth – Vikander's film debut Pure (2010) and Goteborg 2018 selection Euphoria, in which Vikander stars and also serves as a producer.
"It gave me the opportunity to experience a diversity that was meaningful for my personal development and it gave me inspiration as an artist. But it also made me realise something even greater. Strong women are alone – as women – on the big screen. The roles we play, we play against strong men."
She realised this during the shoot for Tulip Fever, when she filmed a scene with Holliday Grainger and noticed that she hadn't shared a scene with another female "for a very long time."
"I did four leading roles in a row, and didn't have a single scene together with another woman," she recalled.
"But instead of getting frustrated, I told myself to focus. Focus on the inspiring and fresh dynamic I had experienced with my female co-star. Also realising, there and then, that I can be a part of a change. Not alone, but together we can do a little bit more. Together we can change everything we want to change."
She praised the groups already affecting change. "MeToo, TimesUp and [Swedish movement] Tystnadtagning makes a difference," she said.
"It's not all about men versus women. In this world, this amazing world of film, it's also about us, women to women. We have been separated. We've been made to compete. Forced to believe that we need to bushwhack our way forward and guard our positions. But something has happened. It's like we suddenly realized that there is not room for only one girl.
"We are sisters, not competitors. With sisterhood comes play, through play comes creativity. The last few months I have made more friends in my own business than I had managed to rattle together from all the films that I've worked on before!"
Vikander also shared memories of how much the Goteborg Film Festival has meant to her over the years, starting when her actress mother would comb through the festival catalogue each year and later when Vikander visited the festival and "discovered some of my favorite directors like Wes Anderson, Sofia Coppola, Michael Haneke and Andrea Arnold."
Vikander, an Oscar winner for The Danish Girl, next stars as Lara Croft in the new Tomb Raider franchise entry, which Warner Bros will release in March.