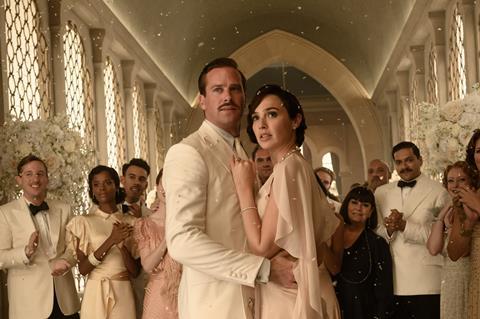 Wonder Woman 1984 and News of The World are the only major new theatrical releases left on the 2020 calendar after Disney pulled Death On The Nile and Free Guy on Thursday (November 5).
20th Century Studios' adventure comedy Free Guy starring Ryan Reynolds and Kenneth Branagh's all-star Agatha Christie adaption Death On The Nile were set to open on December 11 and 18, respectively, and finally succumbed to the pandemic. They are currently unset.
The latest postponement comes as cinemas in Los Angeles and New York remain closed after shutting down in March. The number of new cases in LA County climbed to 2,065, which one health officer said was the highest daily level in the region in months.
As the pandemic surges across the United States and western European leaders impose strict measures heading into winter – a month-long lockdown started in the UK on Thursday – insiders expect Warner Bros to push Wonder Woman 1984 and Universal to do the same on Tom Hanks western News Of The World. Both are currently set for December 25.
Thursday's development leaves Searchlight Pictures' Nomadland on December 4 as the only upcoming film from the Disney fold this year.
Frances McDormand plays a woman forced by circumstances to adopt an itinerant life in the American West. The Venice, Toronto, Telluride and London film festival darling is a leading awards contender this season.
Looking to 2021, Disney's schedule includes The King's Man on February 12 and Bafta hopeful Everybody's Talking About Jamie on February 26, as well as heavyweights like Black Widow on May 7, Jungle Cruise with Dwayne Johnson and Emily Blunt on July 30, Ridley Scott's The Last Duel starring Matt Damon and Ben Affleck on October 15, and Steven Spielberg's West Side Story on December 10.
Marvel Studios' Shang Chi And The Legend Of The Ten Rings is scheduled for July 9.
The calendar shuffle and years of restructuring Disney's film business into a tentpole production line comes into clear focus when one looks to the years ahead.
As things stand, Disney's 2022 and 2023 schedules are showcases for Lucasfilm, Marvel Studios, and Pixar, interspersed with other tentpoles.
2022 brings the next Indiana Jones instalment, Avatar 2, sequels for Black Panther, Thor Captain Marvel and Doctor Strange, and two Pixar films.
The 2023 schedule roster includes four untitled Marvel Studios tentpoles, a Star Wars film, and a Pixar release.