Altitude Film Sales has boarded international sales on Carmilla, a UK gothic drama that commences principal photography on Monday (Sept 11).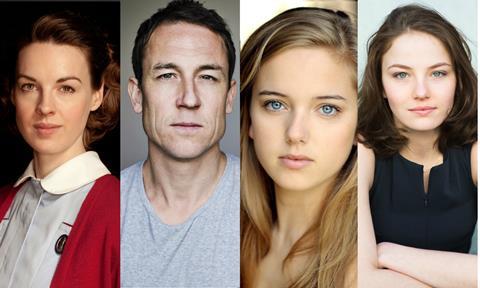 The company, which will be introducing the project to buyers this week in Toronto, has also pre-bought UK rights and will release the film under its banner Altitude Film Distribution.
Jessica Raine (Call The Midwife, Wolf Hall) leads the cast with Tobias Menzies (Outlander, Game Of Thrones) illusionist Scott Silven and emerging talents Hannah Rae (City Of Tiny Lights, Broadchurch) and Devrim Lingnau (Under Suspicion). Greg Wise (The Crown) has also joined the cast ahead of shoot.
Inspired by Sheridan Le Fanu's 1871 novel of the same name, the film marks the solo feature debut of writer-director Emily Harris who previously co-directed Love is Thicker Than Water with Ate De Jong.
Producers are Lizzie Brown of Bird Flight Films (2015 Cannes Palme d'Or best short film nominee Love Is Blind) and Emily Precious of Fred Films (associate producer Patrick and Crooked House). Will Clarke, Andy Mayson and Mike Runagall will serve as Executive Producers for Altitude.
Set in the late 18th Century, Carmilla follows 15-year-old Lara (Hannah Rae) who lives with her father (Greg Wise) and governess (Jessica Raine) in total isolation. Struggling to find an outlet for her burgeoning sexuality, Lara is enchanted by Carmilla (Devrim Lingnau) who is brought into the house to recuperate after an accident.
The pair strike up a passionate relationship, which strikes fear into the heart of Miss Fontaine and ignites an emotional triangle between the three women. With rumours and superstition rife and the exhortation of family doctor (Tobias Menzies), Carmilla's presence in their home begins to strike fear into those around her.
Mike Runagall of Altitude commented: "With Carmilla, director Emily Harris and producers Lizzie Brown and Emily Precious have concocted a bold, original and evocative take on a genre that holds an eternal fascination for audiences around the world. We are thrilled to be partner with the filmmakers to handle international sales and UK distribution."
Producer Lizzie Brown said: "Carmilla is an unsettling story of adolescence and from the first time I read Harris' script I was struck by her distinctive, visual language."
Emily Precious added: "We are working hard to realise Harris' subtle interpretation and are delighted that Altitude share the same vision and will be releasing Carmilla in the UK."