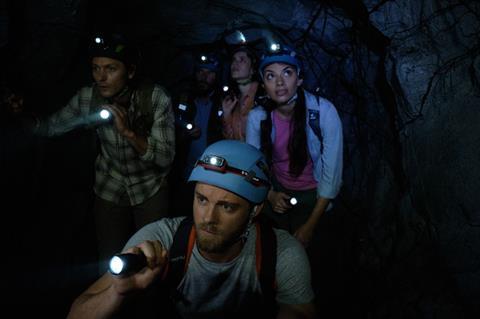 Screen Media has acquired all North American rights from Altitude Film Sales to crocodile horror Black Water: Abyss.
Andrew Traucki (The ABCs Of Death, The Reef, Black Water) directed from a screenplay by John Ridley and Sarah Smith that marks a follow-up to the 2007 survival story original Black Water.
The action takes place in a remote cave system deep in the forests of Northern Australia where friends get trapped with killer crocodiles when a tropical storm hits. Altitude handles international sales and will take the title to the Cannes virtual market.
Jessica McNamee (The Meg), Luke Mitchell (Agents Of S.H.I.E.L.D.), Amali Golden (Bloom), Benjamin Hoetjes (The Code), and Anthony J. Sharpe (Robert the Bruce) star.
Neal Kingston, Michael Robertson and Pam Collis produced. Screen Media will release Black Water: Abyss day-and-date on August 7.
Needle brokered the deal with Altitude Film Sales managing director Mike Runagall on behalf of the producers.
"We're incredibly excited to have Screen Media on board this visceral journey of tension, suspense and teeth," said Kingston, partner alongside Michael Robertson in newly formed production company Thrills & Spills.
"As a huge fan of the original film – and their other nerve-wracking creature films - I'm excited Screen Media can be part of the clever and well-executed thrill ride that is Black Water: Abyss," said Seth Needle, senior vice-president of global acquisitions and co-productions for Screen Media.
Screen Media recently announced its acquisition of Roger Michell's drama Blackbird starring Susan Sarandon, Kate Winslet and Mia Wasikowska. The distribution pipeline includes historical drama Robert The Bruce, Tom Berenger thriller Blood And Money, Rod Lurie's The Outpost, and John Turturro's The Jesus Rolls. In post is Nicolas Cage horror Wally's Wonderland.