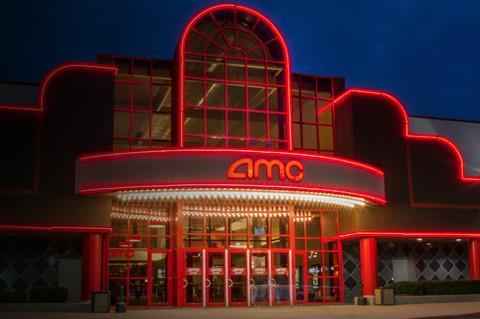 AMC Entertainment, the world's largest exhibitor, expects its cash resources to dry up by the end of this year or early 2021 in light of the devastating effects of the pandemic.
In a filing with the US Securities And Exchange Commission on Tuesday (October 13), the company said it needed "material" additional liquidity in light of low attendance levels and the absence of tentpoles for the fourth quarter.
Possible courses of action include taking on additional debt and equity financing (to date AMC has raised approximately $37.8m through selling shares), further talks with landlords, potential asset sales, joint venture "or other arrangements" with existing partners, or minority investments.
The filing continued, "There is a significant risk that these potential sources of liquidity will not be realized or that they will be insufficient to generate the material amounts of additional liquidity that would be required until the Company is able to achieve more normalized levels of operating revenues."
Noting that "certain competitors" had temporarily closed down – a reference to Cineworld turning off the lights at its UK sites and US-based Regal sites – AMC said this "may further exacerbate" the trend of big films getting pushed from the 2020 calendar.
The company said as of October 9 it had resumed operations at 308 leased and partnership international theatres, representing approximately 86% of its international theatres and approximately 90% of 2019 international same-theatre revenue.
Since the resumption of operations in international markets on June 3, the Company's theatres have served more than 5.2m patrons as of October 9, representing a same-theatre attendance decline of approximately 74% compared to the same period in 2019.
As of October 9, AMC said it had reopened 494 of its 598 US theatres, with seating capacity restricted to between 20% and 40%. This represents approximately 83% of its US theatres and 77% of the same theatres in 2019.
Since it reopened sites, AMC has served more than 2.2million patrons, representing a same-theatre attendance decline of approximately 85% compared to the same period a year ago.
The remaining 17% of US theatres that remain closed are located mostly in California, Maryland, New York, North Carolina, and Washington state – a footprint that accounted for roughly 23% of AMC's US revenue in 2019.
Twenty-five sites in North Carolina and Washington state are scheduled to reopen on Friday (October 16). Beyond that, talks with state officials have not shed light on when other theatres will be able to reopen.
AMC has adjusted its operating hours at its venues to best suit each local market.