US cinema chain has ambitious plans to update its European theatres.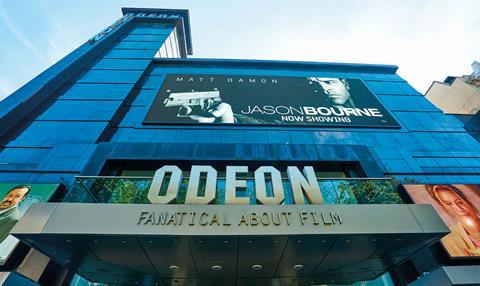 AMC, the parent company of Odeon & UCI Cinemas and Nordic Cinemas, will spend "hundreds of millions" modernising their European sites.
Adam Aron, CEO and president, AMC Entertainment Holdings, Inc, discussed his plans with reporters at a breakfast announcing their European deal with IMAX.
He said: "We looked at moviegoing in Europe and thought it could be much nicer for consumers than it is today.
"We are committing hundreds of millions of pounds to make the moviegoing experience nicer at our European theatres.
We are well aware that some of the Odeon theatres are tired but as we look ahead under AMC ownership we think those theatres are going to be transformed into wonderful moviegoing palaces and IMAX is a big part of this for us."
He added: "What Odeon as a brand will stand for 36 months from now in the UK is going to be immensely different than what Odeon stood for as a brand in the UK the day before [AMC purchased Odeon]."
American improvements
Aron, who joined the company in 2015 and lead the acquisitions of Odeon and Nordic Cinema Group, outlined the improvements AMC had already made to some of their US theatres.
These include improving the variety and quality of food, adding soft drink refill machines such as 'Coca Cola Freestyle' and more licensed bars and reclining seats, which Aron promised to install throughout their European sites.
AMC is also planning more 'premium large' screens.
"A year ago at AMC we had 160 premium large screens. I'm hopeful we can get that up to 600. Some through growth, some through acquisitions. One of the ways you get people out of their homes… is to offer them a 60-foot screen - the way it was meant to be seen. That's why we want to grow the number of premium large screens we have by a big number."
He said does not think these improvements will raise prices at AMC venues.
He said: "It's been our strategy in the US to renovate these theatres and make the experiences nicer, and hold prices relatively flat. It could go up 50p or a pound, it's possible, but is it going to go up £5 or £10 pounds? No, it's definitely not. In a lot of our theatres in the US we didn't raise the price at all, not even a single penny.
"The attendance of renovated theatres has gone up and pricing has essentially been flat. That's a conscious strategy."
Read more:
IMAX announce biggest ever European deal