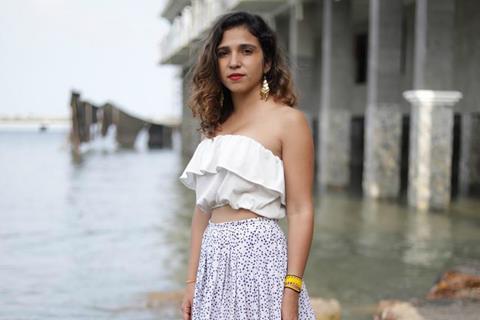 Panamanian director Ana Elena Tejera has tried to express her conflicted identity through her debut feature Panquiaco, a Bright Future Competition title screening at International Film Festival Rotterdam.
On one hand, she is proud of her country, saying "I want to work in Panama only." However, she is also aware that, to the indigenous communities who are the focus of Panquiaco, she is an outsider.
"This is something difficult for me: we're there for eight weeks, then it changes. You're in people's lives, then you're saying 'now we are going – bye!'" she says. "It's complicated – it's never romantic, working with the community."
The film is experienced through a similar perspective, that of elder fisherman Cebaldo, who has worked for years in a Portuguese fishing port but returns to the territory of his youth, reflecting on his cultural heritage.
As with much of Tejera's work, the character is a hybrid of fiction and the real life of actor Cebaldo de León, appearing in his first screen role.
Tejera had already written a script when she met him in 2017 while he lived in Portugal and she was in Barcelona; this encounter re-shaped her debut feature.
"He told me he wanted [to return to Panama], and I started to re-write the script because I saw this conflict was alive in him."
Tejera, who hasn't studied film but rather worked as an actress and performance artist in Spain, made use of any and all sources to realise that script.
She attended seven different labs and markets from 2017 to 2018, including TFI Network through the Tribeca Film Institute; Chiledocs Conecta; Nuevas Miradas in Cuba; and the Primer Corte lab at Ventana Sur.
"It's important to listen to opinions," she acknowledges. But it also required her to stick to her guns, including on one single-take scene of a funeral ritual by the water lasting eight minutes. "People said 'this is too distracting'. I said, 'this is my favourite thing of the film!' she laughs. "Some things are important to me – I don't know why, I feel it."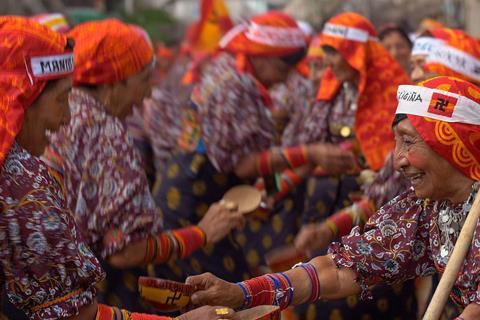 The majority of funding came from the Panama 500 fund, the Panama Film Fund, and the Primera Mirada post-production fund at International Film Festival Panama, topped up by private sources in Portugal.
Filming respectfully
Tejera's conflicted identity is expressed by her understanding of Dulegaya, the language of the indigenous Dule people featured in the film. She doesn't speak it but understands bits and pieces. "It's a beautiful language, but it's like Japanese because it's poly-semantic, " she says.
For example, the Dule word for 'photographer' has three parts: WAH-gah (meaning 'foreign'); BUR-bah (meaning 'soul'); 'guy' (meaning 'hunter'). Those spellings are phonetic; as an agglutinative language, Dulegaya has no Western script and is instead written as a series of images.
The translation 'foreign soul hunter' suggests a distrust of the captured image, a sentiment of which Tejera was conscious throughout filming.
"I went to shoot a birth ceremony, for which we prepped for one hour," she says. Then just as cameras were about to roll, the Dule "started to scream."
"I needed to respect this," she says. "I want to shoot other things. But they feel that wasn't respectful. I said, 'If you feel it, maybe we don't need to do this."
Panama has made international headlines in recent years as a haven for fraud and tax evasion through law firm Mossack Fonseca and the 'Panama Papers' scandal.
Tejera is keen to demonstrate that her country of birth has a different identity: a complicated one, but one that extends beyond the activities of wealthy outsiders.
"Panama is the only place in the world where two seas can be seen from one mountain, " she says.
The film takes its title from the name of the indigenous man who showed 16th-century Spanish explorer Vasco Núñez de Balboa the path to the 'South Sea' – what we now call the Pacific Ocean. Núñez is immortalised for the 'discovery' in Panamanian culture, appearing on currency, street names, and national awards; Panquiaco is a far less well-known name.
"Panquiaco is that conflict, " says Tejera. "It is the soul that wanders between the two seas, that suffers from sadness for having given the news to Balboa."