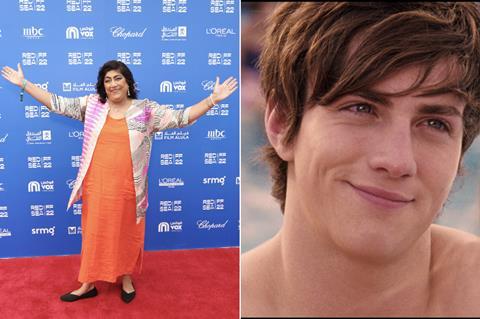 UK director Gurinder Chadha has voiced her support for Aaron Taylor-Johnson to be the next James Bond, 14 years after she gave him his breakout film role in Angus, Thongs And Perfect Snogging.
"The next James Bond, we hope, will be Aaron Taylor-Johnson," said Chadha, speaking at an in-conversation session at Red Sea International Film Festival in Jeddah, Saudi Arabia. Chadha recalled how she "had to fight with the head of casting at Paramount" to get Taylor-Johnson cast as Robbie in Angus… "I said, 'I really want to cast this guy. I think he's huge. He's going to be a great talent, a big star'. And they were like, 'Well, no one knows who he is'. And I said, 'I know. But trust me, not yet. And then I cast him."
"I wlll take complete credit if he's going to be Bond," joked Chadha. Taylor-Johnson is believed to be in the running for the role vacated last year by Daniel Craig, with odds on his casting having dropped in recent weeks. James Bond producer Eon Productions has not commented on the progress of the casting process.
Discussing her career, Chadha said that financiers don't believe in the commercial prospects of her films – until after they are made. "I always say 'It's really commercial!', and people say, 'It's got a lot of Indians in it and they're not stars'," said the director. "Finally when I do put together the financing, people are like 'Oh yeah it does work, I do get it'. The easiest thing to do is to get stars to be in your movies and they get financed; so if you are trying to tell different stories, it's difficult."
This continued at the distribution stage, she said, with her debut fiction feature Bhaji On The Beach opening in only five cinemas in 1993. It was only when queues formed from Tottenham Court Road all the way along Oxford Street in London that exhibitors believed in the interest for the film. "That's the problem for me – the expectation is so low, and then when things happen people are like, 'Oh'," said Chadha.
This has continued through her recent projects, including Bruce Springsteen-soundtracked drama Blinded By The Light. "It did get rejected by the BBC and Channel 4 – I was like, 'What?!'," said the director. "Still we hustled, we made the film." Chadha then recalled the "almighty bidding war" which took place following the 2019 Sundance premiere. "It started at $8m, then went to $10m and $12m and $13m. I was like, 'Take it!', and [colleagues] were like 'No, wait…'."
Warner Bros eventually purchased the film for $17m for North America – "a great vote of confidence", according to Chadha.
Saudi development
Guy Ritchie, Oliver Stone and Sharon Stone are among the guests to have discussed their decision to attend RSIFF, in the context of criticism of Saudi Arabia's human rights record.
"We have a different view of what Saudi Arabia is [in the UK]," said Chadha. "Being here in Jeddah, the overwhelming thing for me is everything is geared towards families. Everything is about family life and kids and people going out and sitting together. You don't get those kind of impressions in Britain."
"It is a country that's changing - too fast for some people, maybe not enough for others," said Chadha. "I'm really interested in those discussions. The work I do is about focusing on the fact that there will be change."
"It'll be interesting in Saudi cinema to see those discussions and see how people negotiate change; but I hope it's not seen as a negative thing," said Chadha. "What I've done is to show change and difference and different opinions; but everyone's opinions matter."
The festival is screening Chadha's 2002 feature Bend It Like Beckham; its director said "one of the most wonderful things" in recent years has been learning that all of England's Lionesses football team – victorious at this summer's European Championships – "only got into football after watching the movie."
"It is a movie that has launched champions, and I'm very proud of that," said Chadha. She offered sympathy for "poor David Beckham", the footballer whose name has been connected with the film since its release. "He can't do anything now without some headline saying 'Bank It Like Beckham'. Although now we might have to lose the Beckham bit and just keep the 'Bend It' bit" (a possible reference to Beckham's publicity role for Qatar, which has come under criticism).
Next projects
Chadha said she doesn't believe she has been used as a token due to her status as one of the few British Asian female directors in the industry. "I think the opposite – because I've been the only one for so many years, it's quite a shameful statistic, and people are trying to change that," she said. "All these years later, it's not a big thing, but it needs to be; I'm a reminder of the fact that things need to change."
On potential future projects, Chadha said she has "a great idea for a film in Punjabi", and wants to cast Indian actor Sanjay Dutt in the lead. "I told his sister that I love her brother; she told me he loves speaking Punjabi. So find me a Punjabi scriptwriter."
Chadha also put out a call for writers from Saudi Arabia, saying someone had pitched her the idea of a Saudi version of Bend It Like Beckham, that she was open to pursuing but only with a Saudi writer.
Upcoming in-conversations at RSIFF include Spike Lee and Jackie Chan.