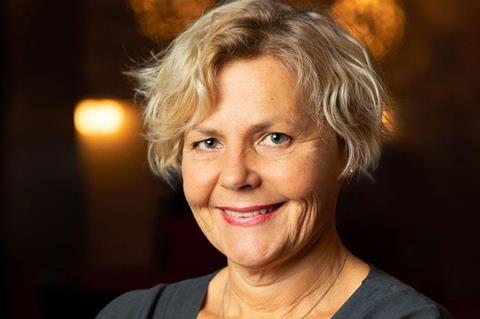 Anna Serner is to resign as CEO of the Swedish Film Institute (SFI) in October, after 10 years in the role.
Serner's enduring legacy will be the launch of the SFI's pioneering "50/50 by 2020" initiative, which she unveiled at Cannes 2016. When she joined in 2011, women directed 26% of the films funded by the SFI. By 2014, 50% of the films it backed were funded by women and grew to 64% female-led projects in 2016.
During her tenure, Serner became a global expert and leading speaker on gender equality in the film industry, noting that the SFI had reached gender parity in the number of men and women it backed without using quotas but instead focusing on quality, which they defined based on "relevance, originality and craft".
SFI-backed films that had international success during Serner's tenure include Ruben Ostlund's Palme d'Or winner The Square, Amanda Kernell's Sami Blood, Tarik Saleh's The Nile Hilton Incident and Niki Lindroth von Bahr's The Burden.
Explaining her decision to step down, Serner outlined her belief that people in powerful positions should be continuously replaced and that she wanted to "allow for new voices and perspectives to step forward".
On her personal blog, Serner said: "Even though it is with great sadness that I now have to leave the most fun and stimulating workplace I have ever had, I have a strong conviction that people in positions of power need to be replaced continuously. Especially in production, distribution and display, a whole world is changing right now.
"I think it is good that new healthy eyes with different perspectives are coming in, to ensure that we have a support system that follows that development. We are in the middle of change – what is even the difference between movies, series, games? Many brave decisions will have to be made, both from us at the Film Institute and in all different industries in the film industry."
Serner will "contribute to a smooth succession during the coming six months", before focusing on her next steps.
She added that she was "enormously proud" of how the SFI had weathered the pandemic and said: "A total of SEK 1bn ($119m) has been spent on crisis support. We have created new support, advertised, assessed and paid out, secure the right to act and quickly and with an understanding of where the needs have been greatest. Together with the help of the industry, we have managed it."
Serner will also continue to chair the working group for gender inclusion and wider inclusion at EFAD (European Film Agency Directors association) until a successor is named.
Criticism
Over the years, some naysayers in the Swedish film industry thought Serner put too much emphasis on gender equality and there was particular outcry when she announced at Cannes in 2018 that if the SFI's market funding, for its most commercial projects, did not go to any female directors or producers in 2019, then in 2020 all that money would be allocated for women only.
Serner added on her blog: "We have produced many more interesting filmmakers through our inclusion work. I hope it will continue to be so, even though it is sometimes followed by harsh criticism. I do not buy the basic premise of criticism – that we should miss quality and that we inhibit artistic freedom.
"Art is at its freest when ALL voices are free. And the quality has increased. Our film policy mission is to ensure that "the film is of high quality and shows such breadth and diversity that it is a matter for everyone". We have not reached the vision, but we have probably moved one or two mountains. It is so cool that we have managed to start a global movement with our gender equality initiative."
The government-backed SFI works across supporting the production of new films; the distribution and screening of worthwhile films, preservation, promotion and development of Sweden's film heritage; promotion of film creation and film literacy to children and young people; and working with Swedish film on an international level.
Claes Ånstrand, chairman of the board of SFI, said: "We in the board especially wish to emphasise the great and important work Anna Serner has done to find new means to raise and widen quality by working with inclusion perspectives."
Women in Film & TV International will publish an open letter to thank Serner for her service over the past decade. The letter reads: "It's impossible to overstate the importance of your work for gender equality in the international film industry. Since taking the helm of the Swedish Film Institute in 2011, you've been an unwavering force for women at all levels of the industry. With your passion, dedication and clarity, you've led by example, and given us all hope, encouragement and strength."