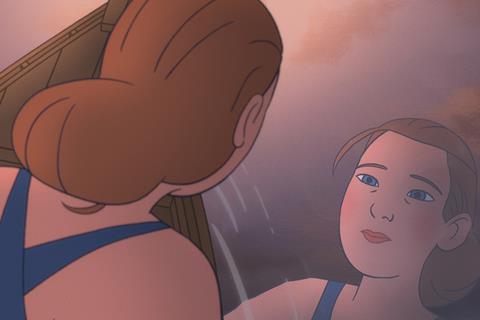 The Annecy International Animation Film Festival has unveiled its main feature competition line-up for the upcoming 2022 edition (June 13-18).
Ten titles have been selected for official competition, including Eric Warin and Tahir Rana's Charlotte which premiered at the Toronto International Film Festival in 2021. Based on the true story of the young Judeo-German artist Charlotte Salomon, the voice cast includes Kiera Knightley, Marion Cotillard, Sam Claflin and Helen McCrory.
Scroll down for the full list of titles
Other titles include Japanese filmmaker Shinya Kawastura's The House Of The Lost On The Cape following two girls separated from their families during the 2011 earthquake and tsunami, who take refuge in a strange old lady's home where mysterious beings start showing up.
Alongside, José Miguel Riberio's Nayola centres on three generations of women plagued by the civil war in Angola, while Pierre Foldes's Blind Willows, Sleeping Woman freely adapts several of Haruki Murakami's short stories.
Ten feature titles have also been selected for the Contrechamp feature competition. They include Inna Sahakyan's Aurora who recently premiered her documentary film Mel at the Thessaloniki Documentary Festival.
Aurora centres on a genocide survivor turned Hollywood star, her odyssey is revived through this unique testimony, archive footage, and the magic of animation. Also in Contrechamp, artist-filmmaker Lei Lei will show Silver Bird And Rainbow Fish which premiered in Rotterdam in January and recalls the past to make sense of the present using propaganda images, surrealist collage and pop-art animation.
Official Competition
Charlotte (Bel-Can-Fr)
Dirs. Eric Warin, Tahir Rana
Goodbye, DonGlees! (Japan)
Dir. Atsuko Ishizuka
No Dogs Or Italians Allowed (France-Italy)
Dir. Alain Ughetto
Little Nicholas – Happy As Can Be (France-Luxembourg)
Dirs. Amandine Fredon, Benjamin Massoubre
The House Of The Lost On The Cape (Japan)
Dir. Shinya Kawatsura
My Love Affair With Marriage (US-Latvia-Lux)
Dir. Signe Baumane
Nayola (Port-Bel-Neth-Fr)
Dir. José Miguel Ribeiro
Blind Willow, Sleeping Woman (Can-Fr-Lux)
Dir. Pierre Foldes
The Island (Rom-Fr-Bel)
Dir. Anca Damian
Unicorn Wars (Spain-France)
Dir. Alberto Vazquez
Contrechamp Feature Competition
Aurora's Sunrise (Ger-Armenia-Lith)
Dir. Inna Sahakyan
Home Is Somewhere Else (US-Mexico)
Dir. Carlos Hagerman, Jorge Villalobos
Dozens Of Norths (France-Japan)
Dir. Koji Yamamura
Khamsa – The Well Of Oblivion (Algeria)
Dir. Khaled Chiheb
The Other Shape (Colombia)
Dir. Diego Guzman
My Grandfather's Demons (Sp-Fr-Port)
Dir. Nuno Beato
Quantum Cowboys (US)
Dir. Geoff Marslett
Silver Bird And Rainbow Fish (US-Netherlands)
Dir. Lei Lei
Chun Tae-il: A Flame That Lives On (South Korea)
Dir. Jun-pyo Hong
Yaya e Lennie – The Walking Liberty (Italy)
Dir. Alessandro Rak