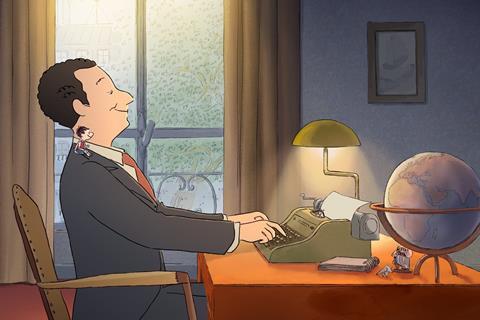 Annecy best feature film winner Little Nicholas: Happy As Can Be from France's Foliascope and Luxembourg's Bidibul Productions has secured a key distribution deal and will open in the US through Buffalo 8 on December 16.
Amandine Fredon and Benjamin Massoubre (I Lost My Body) directed the feature based on the bestselling French children's book series Le Petit Nicholas. The 2D film takes place in 1960s Paris and weaves together the adventures of schoolboy Nicholas and his legendary creators, writer René Goscinny and cartoonist Jean-Jaques Sempé.
Goscinny and Sempé are voiced by Alain Chabat (Asterix & Obelix: Mission Cleopatra) and Laurent Lafitte (The Takedown, Elle). Anne Goscinny, the daughter of René Goscinny, co-wrote the screenplay with Michel Fessler and Massoubre and the film was produced by Aton Soumache and Lilian Eche. Julien Maret led the animation.
The Nicholas stories were first published in 1959 in the Sud-Quest Dimanche newspaper. More than 222 stories were published and eventually created into books.
"Little Nicholas: Happy As Can Be is a detailed and beautiful homage to Sempé and Goscinny," said Buffalo 8's head of distribution Nikki Stier Justice. "Even if you are not familiar with their names, you will recognise their work. The Buffalo 8 team is delighted to help bring it to life on the big screen."
Adrian Politowski and Martin Metz at Align, ON Classics (Mediawan) and Bidibul Productions negotiated the deal with Stier Justice on behalf of Buffalo 8. Charades represents world sales.
Buffalo 8 projects include Conversations With A Killer: The Jeffrey Dahmer Tapes, Little Men, Land Of Leopald, As You Are, American Cherry and Rodney King.