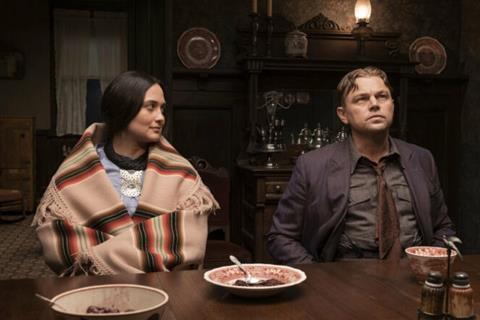 Apple is reportedly planning to spend $1bn a year producing films for theatrical release, in a move that will offer encouragement to the exhibition sector as it continues on the post-pandemic path to recovery.
Bloomberg broke the news on Thursday, adding weight to ongoing speculation that Apple TV+ believes a hefty theatrical presence can help grow its subscriber base and is willing to commit to theatrical in a way that goes beyond previous efforts.
Until now the company has only staged very limited releases in support of films like Oscar-winner Coda or last season's awards hopeful Causeway starring Jennifer Lawrence.
However Apple TV+ is understood to be lining up releases on a number of tentpoles including Killers Of The Flower Moon, Martin Scorsese's epic FBI crime drama on which it is working with theatrical distribution partner Paramount Pictures.
The film is widely tipped to premiere out of competition in Cannes and stars Leonardo DiCaprio, Robert De Niro, Jesse Plemons and Lily Gladstone.
Scorsese's film is in post, as are heavyweight prospects like Ridley Scott's historical biopic Napoleon starring Joaquin Phoenix and Vanessa Kirby, and Argylle, Matthew Vaughn's potential spy thriller franchise which boasts an A-list cast including Henry Cavill, Ariana DeBose, Samuel Jackson, John Cena, Bryce Dallas Howard, and pop superstar Dua Lipa.
At time of writing it was not believed that Paramount was partnering on any other big ticket features in the Apple TV+ stable besides Killers Of The Flower Moon.
Apple has not revealed specifics about how many people subscribe to its streaming service, however the number is believed to be in the 20m-40m range – way behind the 200m+ enjoyed by Netflix and Disney+. Apple TV+ had not returned calls at time of writing.
The development comes as Amazon Studios ramps up its own theatrical ambitions around a reported $1bn annual spend in support of 12-15 releases. Ben Affleck's well received SXSW premiere Air is among them and opens exclusively in theatres on April 5 ahead of an unspecified drop on Prime Video.
Netflix has experimented with theatrical releases in the past but has no apparent interest in a broader theatrical business at this time. Reed Hastings, now executive chairman, has conceded the company left money on the table when it mounted a one-week-only exclusive theatrical run for Rian Johnson's Glass Onion: A Knives Out Mystery before the whodunit dropped on the platform. Theatre owners clamoured for extended exclusivity yet Hastings said the purpose was promotional ahead of the film's streaming debut.
Reported moves by Apple and Amazon resonate with current thinking among big media players. Warner Bros Discovery CEO David Zaslav is a believer in theatrical to initiate multiple revenue streams through the life cycle of a film's release, as is recently returned Disney CEO Bob Iger.
Cinema stocks including Cinemark, AMC and Imax rose by several points after the Bloomberg report.