FILM BAZAAR: Event also launches its new Virtual Reality Lounge with 12 international VR projects.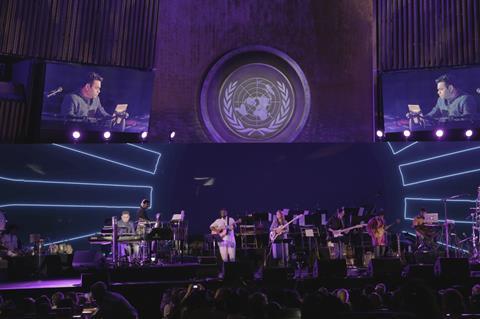 Superstar composer AR Rahman will premiere his Vande Mataram Live-in-VR Experience here at Film Bazaar today at 10 am in the new VR Lounge.
The film – produced by Chennai-based YM Movies — was shot in the 4K Stereoscopic format and captures Rahman's tribute concert to the late vocalist M. S. Subbulakshmi performed at the United Nations in New York in August. Rahman's 1997 album is India's largest-selling non-film album.
On Wednesday, Rahman (fresh from the Global Citizen concert in Mumbai, where he appeared with Coldplay) will attend Film Bazaar to talk about the making of the VR film in conversation with documentary filmmaker/author Nasreen Munni Kabir as part of the Knowledge Series.
Rahman's talk is one of several Knowledge Session events dedicated to virtual reality and immersive experiences. Today at 14:45 Michel Reilhac talks about Immersive technology and its role in future cinema storytelling and Mirjam Vosmeer of the Amsterdam Creative Industries Network, talks about narratives in 360° VR; on Wednesday at 14:45 Avinash Changa of WeMakeVR talks about his experiences of developing, producing and distributing VR content.
Film Bazaar is hosting its first Virtual Reality Lounge, at the Goa Marriott Resort, where 12 VR projects are being showcased, including Chris Milk and Gabe Arora's Clouds Over Sidra, Lucy Walker's A History of Cuban Dance, Reilhac's Rooftop, and Baobab Studios' Invasion!
The lounge is powered by Samsung GearVR and managed by Meraki, with 1018MB as bookings partner