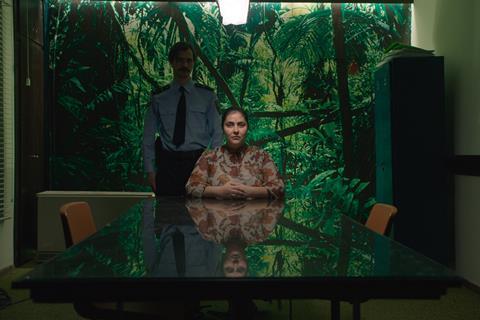 The shortlist for the inaugural edition of the new Arab Critics' Awards for European Films has been unveiled.
The three nominated films are: Spanish filmmaker Salvador Simo's feature-length animation Buñuel In The Labyrinth Of The Turtles; Polish director Jan Komasa's drama Corpus Christi and North Macedonian director Teona Strugar Mitevska's work God Exists, Her Name is Petrunya.
The winner will be announced at the Cairo International Film Festival (CIFF) running Nov 20-29.
Simo's Buñuel In The Labyrinth Of The Turtles – inspired by the shoot of Luis Buñuel's 1933 documentary Land Without Bread - premiered at Annecy in June where it picked up a special jury mention.
Komasa's drama Corpus Christi follows a recently released ex-convict who masquerades as a priest after finding religion in jail. It premiered in Venice's Giornate degli Autori this year and is Poland's submission to the best international film category of the Academy Awards.
Mitevska's God Exists, Her Name is Petrunya revolves around a woman who sparks a vicious backlash when she takes part in a traditionally all-male religious ritual. It premiered at the Berlinale in February.
God Exists, Her Name is Petrunya and Buñuel In The Labyrinth Of The Turtles will screen in CIFF's international panorama section.
The new awards are a joint initiative between European Film Promotion, the Arab Cinema Centre (ACC) and online platform Festival Scope. It involves 42 film critics from 13 Arab countries who screened 24 European features.
"Europe as well as the Arab world is experiencing so many social and cultural changes and the three films selected for the shortlist reflect this in very different ways," said EFP managing director Sonja Heinen, adding: "We also hope that this award and the great interest of the Arab film critics will encourage the Arab film industry to distribute more European films."
Maher Diab and Alaa Karkouti, founders of the Arab Cinema Center (ACC), also emphasised the diversity of the three nominated films.
"The special thing is that they come from different cinematic backgrounds. One of the films is from North Macedonia, which is a country that is rarely found at festivals and doesn't often win awards," they commented.
The new prize is a spin-off of ACC's Critics' Awards for Arab Films, in which some 70 critics based in more than 30 countries vote on the best Arab film of the year. This year's winner in that contest was Capernaum.