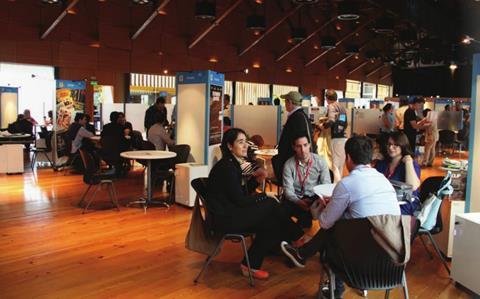 Argentinian executives are preparing to turn the live channel platform Latido.TV for US-based Spanish-speaking audiences into a paid subscription service in January.
An audience at Ventana Sur in Buenos Aires heard on Tuesday (November 28) how the service currently airs four Argentinian TV channels in the US – Channel 13, TN, America TV, and Televisa Publica – and commands a subscriber base of around 10,000.
Starting in the New Year the service – which is not related to Spanish sales agent Latido Films – will boost the four-channel offering with films, shorts and TV series for $5.99 a month.
Paulina Portela of Compañía De Cine is buying films for Latido.TV's nascent library and said the service would show exclusive content. "It's US-exclusive content, so in Latin America we will not get access to this content."
"We want to be curators of Spanish-speaking content and turn Latido.TV into a massive platform in five years," Pablo Mazzola of Compañía De Cine added.
The goal is to reach 300 films by the end of 2018 and build up 500,000 subscribers within several years.
The presenters admitted there were two stumbling blocks. Securing Latin American rights to available films could be tricky given the tendency of Netflix to snap up the world on much of its content.
Portela noted that they would have to work out how to carry Brazilian content given the need for potentially costly subtitling required on Portuguese-language fare.
In a video message at the start of the presentation, Latido.TV co-founder Mario Mongini said the service would be available on mobile devices, laptops and desktops, and set-top devices such as Roku.
"This is the first Latin American content hub for the US Latin community, which numbers 60m," Mongini, an Argentinian entrepreneur who launched the live channel service after he relocated to the US and pined for his native TV favourites, said. "Most of them are not receiving content from their countries."