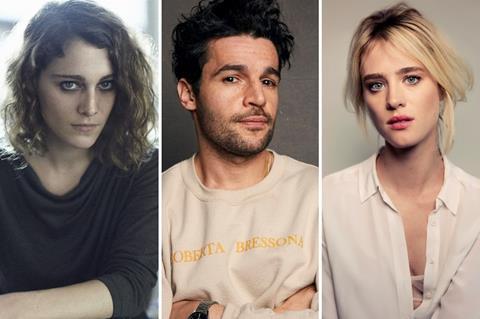 Ariane Labed, Christopher Abbott and Mackenzie Davis have signed to star in Justin Anderson's directorial debut Swimming Home, which Bankside Films is introducing to international buyers at Cannes. US rights are being co-repped by UTA Independent Film Group and WME Independent.
The film is an adaptation of the Man Booker Prize-nominated novel of the same name by Deborah Levy and is a dark comedy about a troubled married couple and their teenage daughter whose holiday is transformed by the naked stranger they find floating in the pool of their villa. It is set to shoot in Greece in October.
Swimming Home is produced by Emily Morgan of the UK's Quiddity Films, whose credits include the Bafta-winning I Am Not A Witch, with Andy Starke of Rook Films (In Fabric, Free Fire, Duke of Burgundy, Kill List, Possessor, The Souvenir), with Paula Linhares and Marcos Tellechea of Brazil's Reagent Media (American Made, Pacified, Rio I Love You), Giorgos Karnavas and Konstantinos Kontovrakis of Greece's Heretic (Triangle Of Sadness, Along The Way, Magnetic Fields), and Leontine Petit and Erik Glijnis of Lemming Film (The Lobster, Do Not Hestitate, Monos, Pleasure).
The executive producers are Stephen Kelliher and Sophie Green for Bankside Films and Phil Hunt and Compton Ross for Head Gear Films, which is providing financing.
The project was developed with support from Curzon, Cineart and Madman Entertainment's Curzon CM Development Fund.
The film will mark the directorial debut of commercials director Anderson. "Deborah's book shows us that that secrets we hold from ourselves are magnetic forces that both draw and repel," he said. "I feel incredibly lucky to be working with a group of astounding actors to render those shifting dynamics into an extraordinary cinematic experience."
Abbott's credits include On The Count of Three, Possessor, Catch-22 and James White, while Davis most recently starred in Station Eleven, and French-Greek actress Labed is known for Flux Gourmet, The Lobster and Attenberg.
"Swimming Home is a brilliantly tense and unsettling story in which relationships fracture in the most unexpected way," said Bankside's Kelilher.