EXCLUSIVE: Arrow Films takes UK rights to romantic comedy co-starring Jessica Alba and Salma Hayek.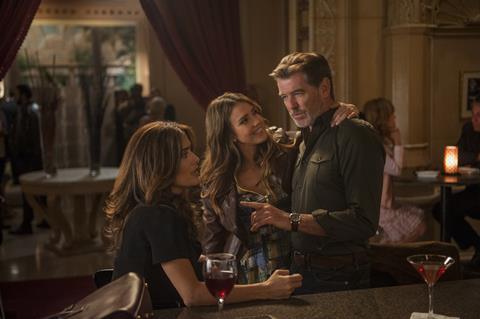 Romantic comedy How to Make Love Like An Englishman has been snapped up for UK-Eire distribution by Arrow Films.
The deal was secured with The Solution Entertainment Group, which handles all international rights to the film.
Arrow is planning a Q3 2015 release for the film, which received an industry screening the AFM (American Film Market) in November.
The film stars Pierce Brosnan stars as a Cambridge professor who meets his match in Salma Hayek, and is forced to re-evaluate his life of hedonistic excess after he manages to get Jessica Alba, her graduate student stepsister, pregnant.
The independent UK distributor has previously acquired titles including God's Pocket and A Thousand Times Goodnight and it's upcoming wide releases include The Voices and Good Kill.
According to Arrow acquisitions director Tom Stewart,How to Make Love Like An Englishmanmarks its first agreement with The Solution Entertainment Group and its second Brosnan release, after Love is All You Need.