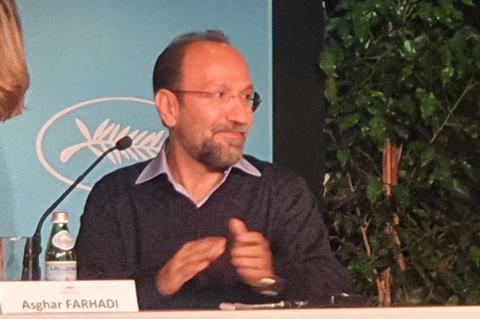 Iranian director Asghar Farhadi spoke of his innocence in the ongoing plagiarism case against him over his Grand Prix-winning feature A Hero, at Cannes today.
"I need to rectify this situation in light of the correct information," said Farhadi in the jury press conference, where he spoke in Farsi, translated to French which was then translated to English via translators.
Iranian filmmaker Azadeh Masihzadeh is bringing legal action against Farhadi over the film, alleging plagiarism of her documentary All Winners, All Losers for A Hero after she attended a workshop he taught in Tehran.
In March an Iranian judicial investigator – whose job is to gather evidence and decide whether a case can be heard by a court – found that Masihzadeh could proceed with her legal action against Farhadi; while last month a court acquitted her of the defamation charges he had brought against her.
It was initially reported by some press that a judge found evidence Farhadi had violated Masihzadeh's copyright; before it became clear that Farhadi had instead been indicted, and the case would move to a second judge.
"[All Winners, All Losers] was something I saw at a workshop; I talked about it with the student, but much later on I created A Hero," said Farhadi at Cannes. "That cannot be viewed as a way of plagiarising; in fact, what is in A Hero is something quite different."
"What we do is make fiction films; what I did in A Hero is not related to the workshop I've just mentioned."
Public knowledge
"When an event takes place and is covered by the press, then it becomes public knowledge and you can do what you like with the event," he continued. "You can write a story or make a film about the same event without one being a copy of the other."
The event in question is the story of Mohammad Reza Shokri, a man who returned a bag of cash he found while on leave from a debtors' prison.
"The case is being studied by the religious authories [in Iran]," said Farhadi. "There will be a jury to judge the case; and the judge in his ruling said the two stories were actually different. He simply decided that there was substance for a case before the court, that a ruling could be given. But we don't know when the case will be heard, it's a very lengthy process."
The director said he regretted the situation, but maintained his innocence. "My film was not based on the documentary," he stated. "I think the matter will no doubt be cleared up and I'm sorry it has created so much ill feeling. I hope however that this mistaken information that has been written about this matter will be corrected. It was even said that I had been sentenced, which is totally wrong."
Farhadi was joined at the jury press conference by fellow jurors including Rebecca Hall, Deepika Padukone and jury president Vincent Lindon.