Experts at the Asia Film Summit in Toronto discussed the growth and current issues in Asia and finding the key to cracking the East-West conundrum.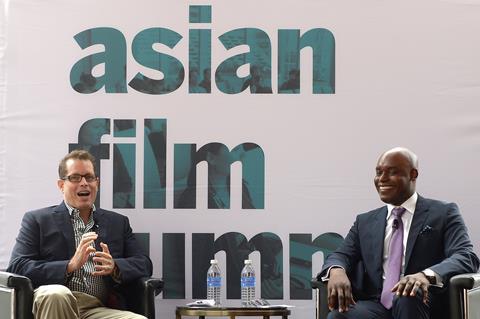 Peter Loehr, CEO of Legendary East, speaking of the Chinese theatrical market said: "This year, China will be the first market outside the US to ever cross $5bn.
"So it's the second largest market in the world, but more importantly, it's expanding at a tremendous, tremendous pace. And I think that expansion will continue for years to come, and I think there are a lot of macro-economic reasons for that.
"If you look at a market like China where there's now about 22,000 screens for 1.3 billion people versus the US where there's 39,000 screens for 300 million plus people, the per-screen average speaks a lot. In China you're looking at a screen for 68,000 people and in the US about 8,000. If China ever achieved the screen saturation the US has, there'd be 159,000 screens. So you're looking at about eight times as now.
"If you're looking at that as unrealistic, we should use another market as an example. If you look at some place like Korea where there's a screen for every 20,000 people, even at a much lower saturation point, China should have about 70,000 screens. So tripling is kind of the minimum and somewhere between the US and Korea is probably where it lands."
Loehr went on to say the massive growing urban population of China will continue to fuel theatrical growth: "They're building about 5,000 [screens] a year now. The trickle down has gone from first and second to third and fourth and now people are talking about fifth and sixth-tier cities.
"And there may be some people who still think China has a huge rural population and the screen saturation will never be that high, but to put a little perspective on that, China has 160 cities with a population with over 1 million people and the US has nine."
Theatrical dependency
He also remarked upon the pitfalls of the current Chinese industry with its weak ancillary market where "the reality is that 99% of income in the Chinese film industry is from box office" versus in the US where merchandising, video, and online make up a lot of the revenue base.
But Loehr forecasted growth with "VOD exploding" and that China will one day have a huge ancillary market producing revenue equal to theatrical. He noted entities coming from ancillary markets are fuelling that growth as in the case of e-commerce company Alibaba and real estate-based conglomerate Wanda.
"Audiences are watching a mix of about 55% international to 45% domestic. This year is just about 50:50," he said, describing the demographic to be generally in the 21-35 year-old range, largely mixed in gender and white collar.
He and other experts talked about the bias towards big event films in IMAX and 3D, which tend to be revenue-sharing films from US studios.
"The average cost of a movie ticket is $6.50 nationwide, but first-run big event tentpoles like Transformers or Godzilla on opening night can run as high as $26-$27 in IMAX and 3D," he said.
With very limited space for other foreign or arthouse films in theatres, independent filmmakers have a hard time getting their work shown theatrically and are trying for online platforms such as Youku, which buys and shows festival films on their channel.
Producer Isabelle Glachant, describing a situation in China that is similar in other countries as well, said, "How many days and space you get for your film will be decided not on the quality of the film but on whether it is 3D, IMAX rather than just a 2D film. It's €5 if you want to see a 2D Chinese film, and €15 if you want to see an action 3D. So even if you pay the theatre the cost of a full house to show your 2D film, the big action 3D film can make more money for them only half full."
She went on to say that theatres would show local 2D films at odd hours such as 8am and 11pm almost so to prove audiences don't want to see that kind of film.
"It's not just about producing the film, but having a window to show the film. There have to be rules were business is possible," she said.
Director Wang Xiaoshuai, whose Red Amnesia is screening in TIFF this year, said: "In China, to make films you have to avoid saying it's 'arthouse'. Even if you make a good quality art film [like Black Coal, Thin Ice] even if it just came from Berlin and got awards, [exhibitors] try to avoid the film. But the box office result was so good. It proves the audiences want that kind of film. Now, the producers know they take a big risk [on arthouse films], but I'm sure the chance and the space is there for them."
Local vs. international
"What you are seeing around the world is that each market focuses on two kinds of films – local films that resonate with their lives and then Hollywood blockbusters," said Loehr.
But panelists agreed that forcing "international" elements into films just to try to make them work in different territories is not the key to success.
"If you are trying to force that, the audiences will tire of it easily. It has to be something real and that helps the film," said Loehr. "There's a very strong desire on the part of most Chinese companies to do co-productions, but it has to be organic. If you have a film that's developed with China in mind, not tweaked later, there's a lot of capital in China that could help a young filmmaker get a film made. But you need to spend a lot of time to reflect what the Chinese audience is like. You have to get used to new set of rules for development and doing business, but if you are flexible and hungry enough you can."
XYZ Films co-founder Nate Bolotin said: "One of the challenges we are looking at is how to identify stories that will identify with various cultures. Without effecting the quality of the film, how to have filmmaker-driven content of a genre and story that can truly travel and achieve box office outside that local market."
Director Rooth Tang, whose Sway is a world premiere at TIFF, said "You have great filmmakers like Apichatpong [Weerasethakul] and Pen-Ek [Ratanaruang] who are artists in the true sense that they make just what they want to make. Then you have films like Lost In Thailand and ghost films - those are all the way on the opposite side - very commercial, no real artistry behind it.
"So when I was putting together Sway, I was looking at new ways of telling the film. It's a very human story, political, yet there is a genre element. Lou Ye did that with Mystery, I think. If you want money from certain markets you have to [get creative]."
"The buzz word is 'smart genre'," said Bolotin, describing films crafted with local artists to make their money back at a particular box office, but that could travel internationally the way his production The Raid did.
Well Go USA CEO Doris Pfardrescher, commenting on why her company buys so many Korean films for North America said: "I think Korean films have some of the best stories, quality, and production value in Asia. A lot of times some of them don't even cross over but they're so well made and they're so well done. We think there's an audience for it, and we have an audience for it. We just try to get smart films, and they just seem to come out of Korea."